SCROLL COMPRESSOR RESCUES CUSTOM CAR BUSINESS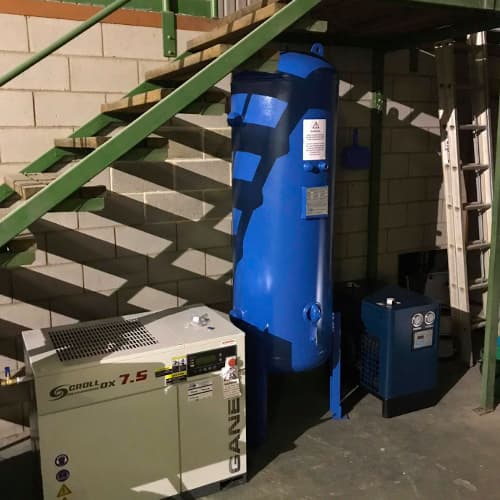 Darcy Ewing of Kurrupt Kustoms in Albury NSW was running compressed air from a 6-year-old reciprocating piston-style compressor when (in his own words) it virtually "S*** itself!".
This left his high-end auto body and customisation shop in real trouble with a total shutdown of all essential operational functions. You could say it took the wind out of his sails and with a shop full of work and promised deadlines he needed to come up with a replacement solution fast!
He emailed 25 or so compressor companies with the urgent request for an immediate replacement and had only four responses on offer for consideration.
Luckily for Darcy, one of these was from Southern Cross Compressors, and came in the form of a phone call from Debbie on the sales desk.
Debbie asked all the right questions and recommended an advanced, lubricated scroll technology compressor, a type that was totally unknown by Darcy who had intended to get another piston type as a replacement.
Debbie's understanding of Darcy's needs and the required performance to run the multiple point air-tool stations convinced Darcy that the 'orbital' scroll was the perfect answer. So, after telling her to get it ready, he headed off down the highway to pick up the lightweight unit and get it back to Albury for installation.
After installing and commissioning the new compressor into the system himself, Darcy couldn't believe the difference. "I flicked the switch and was quickly amazed at the improvement over the old piston compressor. It was much, much quieter and now all work stations had ample, consistent pressure to operate at maximum load together with absolutely no pressure drop."
"The service was fantastic, the price was very affordable and we were back in business with a vastly improved system that allowed us to catch up with our workload… thanks to Debbie and the Southern Cross team."
Demands from industry to reduce energy costs, improve reliability and provide a safe working environment have now virtually rendered piston-type compressors obsolete.
From 7.5 to 15kW capacities, advanced, lubricated 'scroll' technology compressors offer energy efficiency with minimal moving parts in an ultra-quiet, compact package.
With the added benefit of continuous load capability and an integral aftercooler to reduce moisture carry over, you get to experience a reliable compressed air supply with lower energy bills.
Southern Cross Compressors
1300 098 901
www.southerncrosscompressors.com.au