Screw compressors for small factories
31-08-2010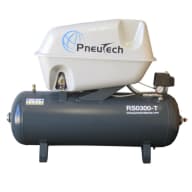 Screw compressors are quiet, smooth-running and efficient.
Pneutech Australia has recently added several new smaller models to its range which are suited for use in smaller factories and factory units.
The Pneutech RS0300-T screw compressor is driven by a 3hp, 240volt electric motor and sits on a 150litre air receiver tank. Designed for connection to a 15amp single phase outlet this machine is ideal for businesses that do not have 415volt power yet need a good supply of compressed air on hand for immediate use.
The advantage of the larger 150L air tank fitted to the RS0300-T is that it enables the compressor to run more efficiently and also allows a good supply of compressed air to be held available for use at all times.
This compressor is also fitted with a fan-cooled after-cooler that cools the compressed air and removes water from it before it enters the air receiver tank.
Fitted with a molded plastic enclosure the Pneutech RS0300-T is quiet enough to run unobtrusively in a small factory unit without special sound screens.
Also available is the Pneutech RS0400-T screw compressor, which is driven by a 4hp, 415V motor to give higher output where 415V power is available.
All Pneutech RS Series rotary screw compressors have direct coupled screw units which eliminates the energy losses associated with V-belts.