SCREEN PRINTED BATTERIES CATCH GOVERNMENT ATTENTION
25-07-2017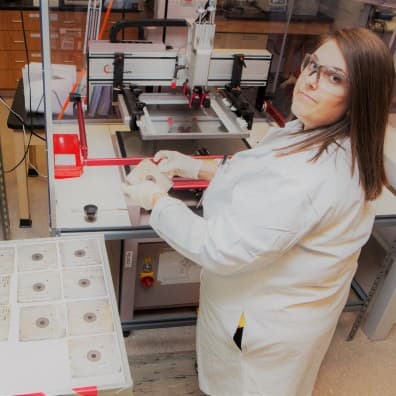 A joint research project from leading Australian universities has attracted government funding to develop flexible, screen-printed batteries. 
The project, launched by the University of Queensland and the University of New South Wales, has recieved $2 million in funding from the government as part of its efforts to support Australia's academic research efforts. 
The successful Cooperative Research Centre Projects (CRC-P) bid will support a research team led by UQ Dow Centre for Sustainable Engineering and Innovation Director Professor Chris Greig and Professor Lianzhou Wang from UQ's Australian Institute for Bioengineering and Nanotechnology.
The new batteries are thin and flexible, able to be printed in almost any shape. They could pave the way for a new wave of small, flexible and portable devices to hit the market.
 "This technology represents not just an opportunity for us to be involved in cutting-edge science and innovation, but presents a real opportunity for the next generation of Australian manufacturing," Professor Greig said.
"Our mission is to foster and facilitate advances in science and engineering which are technologically, economically and socially sustainable.
"This project fits the bill perfectly and the range of applications is probably only limited by our imagination."
The universities involved say that the new technology has "potential applications in powering everything from disposable medical devices, smart cards and wearable electronics to large-scale solar panels and energy storage," particularly for renewable energy. 
Mark Hoffman, UNSW's Dean of Engineering, agreed. "Storage has been the missing piece of the puzzle when it comes to renewable energy. The world is crying out for storage solutions, and this partnership has the potential to deliver on that urgent need. What's exciting is that this technology also has immediate applications in wearables and small-scale devices."