SCRAPED SURFACE HEAT EXCHANGERS AVOID FOULING
08-05-2018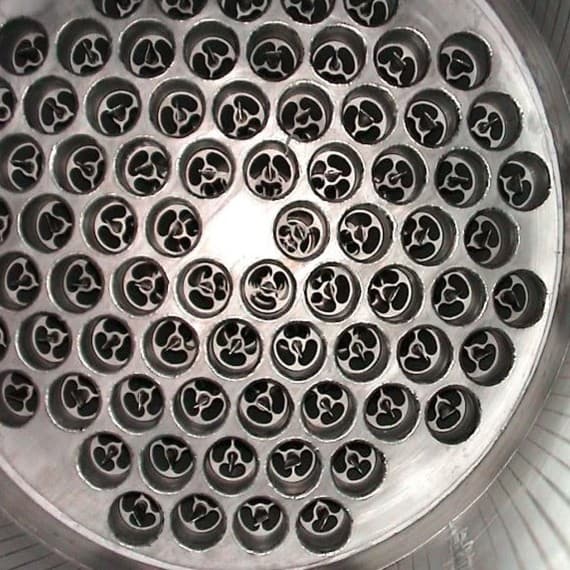 When specifying a heat exchanger for any given industrial process, it is important to consider the materials that are to be treated, as many substances can cause issues for simple plate or tubular heat exchangers.
The Unicus Series of scraped surface heat exchangers from HRS Heat Exchangers has been specifically designed to provide unrivalled heat transfer with a wide range of difficult materials, particularly those which have a high fouling potential (that can limit heat transfer), but which need delicate handling to preserve fragile product integrity. With a choice of different scrapers, the Unicus can be used in a wide range of processes from food pasteurisation to biomass pre-treatment.
The Unicus Series is ideal for both industrial and hygienic applications. It is based on a traditional shell and tube heat exchanger, with the addition of a patented stainless-steel scraping mechanism that is hydraulically moved back and forth within each interior tube.
This movement performs two key functions. First, it minimises the potential for fouling by keeping the tube wall clean. Secondly, the movement creates turbulence within the material. Both these actions help to increase heat transfer rates and together they create a highly efficient heat transfer process ideal for viscous and high fouling materials.
The hydraulic action of the scrapers is highly controllable and can be optimised for the product being processed. This means materials that are susceptible to shear stress or pressure damage can be handled gently to prevent damage while still providing high levels of heat transfer.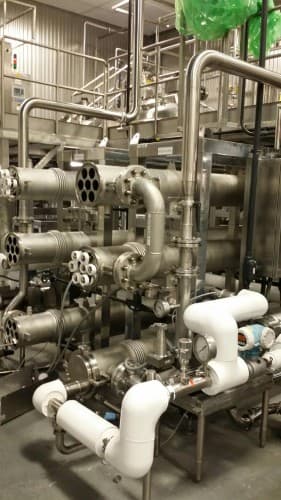 Each Unicus heat exchanger consists of three elements: a hydraulic cylinder and power pack, a separation chamber to ensure hygiene and preserve product separation from the motor, and the heat exchanger itself. In smaller units a pneumatic cylinder can be supplied instead of a hydraulic unit. The heat exchanger consists of a number of tubes (depending on the specification), each of which contains a stainless-steel rod to which the appropriate scraping elements are fitted.
The Unicus Series is scalable up to 80 tubes. A key feature of the unit is the specially designed seals that separate the inner tube from the separation chamber, preventing leaks and ensuring internal and external hygiene.
The standard range of models for food processing or industrial applications provide heat transfer areas from 0.7 to 10m2, and larger models up to 120m2 can be made to specific requirements.
There is also a special version of the Unicus for industrial evaporation systems where volume reduction is vital. The scraping action keeps the heat transfer surfaces clean, meaning that Unicus evaporators can concentrate materials to a level beyond that typically achieved with traditional technologies.
HRS Heat Exchangers
03 9489 1866
www.hrs-heatexchangers.com