SCITECH LAUNCHES NEW PCO ULTRAVIOLET CAMERA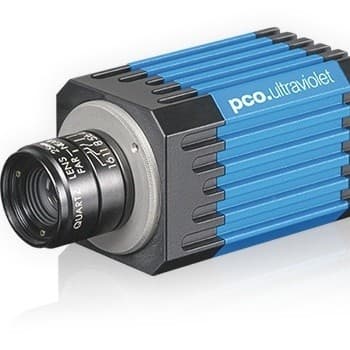 This high performance digital 14bit CCD camera system from Scitech features state of the art in CCD and electronics technology.
The PCO Ultraviolet has extraordinary high quantum efficiency in the ultraviolet part of the spectrum. Available exposure times range from microseconds to a minute.
The CCD camera features 8 electron read-out noise, 1.3MP resolution, quantum efficiency of 21% @ 193m and an ultra-compact design.
This compact camera system is perfectly suited for many scientific and industrial imaging applications such as: UV detection, semiconductor mask inspection, machine vision, quality control, water and mask inspection, high resolution microscopy, hyper spectral and combustion imaging, industrial OEM applications, material testing and luminescence spectroscopy.
Key features:
Quantum efficiency up to 40% @ 193nm
Ultra compact design
Dimensions: 80 x 50 x 50mm
Readout noise typ. 8 e- rms
14 bit dynamic range
High resolution 1392 x 1040 pixel
Exposure times from 1µs - 60s
Temperature compensated
USB 2.0

Scitech
03 9480 4999
www.scitech.com.au