Materials Handling & Equipment
SCISSOR LIFTS AND PALLET LEVELLERS – WHY, WHEN, WHAT, HOW?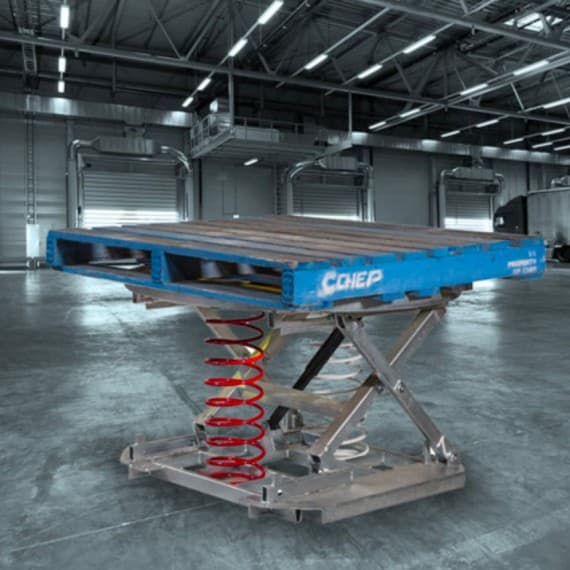 Lindsay Wakefield provides an introduction to scissor lifts and associated products.
WHY? Manual handling can expose workers to physical risk - excessive force, awkward postures, and repetitive motions that can lead to injuries, wasted energy, and wasted time. To prevent this it is important to improve the fit between the demands of work tasks and the capabilities of your workers.
WHEN? This one is simple: every business should constantly monitor its workplace for risk, and act to prevent injuries before they occur. Scissor lifts, pallet levellers and other lifting products play a critical role in preventing injury when manual handling is required.
WHAT? There is a wide array of products available and what to choose can be confusing. Here is an overview of some of the more common lifting equipment on the market.
Industrial scissor lifts and tilters are used for a wide variety of applications in many industries. The main types of industrial lifts are defined below.
Lift tables/scissor tables are scissor lift devices used to raise, lower, stack, convey and/or transfer material between two or more elevations. Lift tables can incorporate rotating platforms (manual or powered), tilt platforms, conveyors, etc as part of their design.
The single leg set is the most commonly used lift type. It offers stability and can handle heavy, evenly distributed loads.
A multiple height lift is made up of two or more leg sets. These types of lifts are used to achieve a high travel with a relatively short platform.
A multiple width lift is made up of two or more single leg sets, side by side, with a common top and base frame. It is used for loads with large plan view dimensions.
A multiple length is made up of two or more single leg sets, end to end, with a common platform and base frame. It is used when very long loads must be handled, such as long lengths of pipe or lumber.
Pallet levellers are designed to assist operators when they are manually loading or unloading a palletised load. As the load weight increases or decreases, the auto leveller gradually lowers or raises to position the top of the load at a comfortable working height. A rotating top can be incorporated to minimise reaching movements.
Dock lifts, or elevating docks, are lifts whose travel is generally 1.8 metres or less and which is used at the loading dock to load/unload material to the ground or a dock. They can be true lifts or more commonly they may just tilt to adjust to the height of the truck.
Industrial tilters position containers/material at an angle not greater than 110 degrees. And turntables are used to rotate a container/material on a horizontal plane up to 360 degrees.
Actuation
There are three types of actuation available for industrial tables: hydraulic, pneumatic and mechanical.
Hydraulic actuation uses one or more hydraulic ram or cylinder to power the lift up or down. The power source can be either electric or pneumatic.
Pneumatic actuation uses air bags or air cylinders as their power source. Pneumatic tables are fairly limited in their application because of a low stroke and other restrictions.
Mechanical actuation uses screw, spiral, gear, chain or lever systems to raise or lower the lift. Usually more expensive, these non-hydraulic lifts are suited for precise control applications where positioning at specific elevations is required or where the lift must maintain a specific elevation for an extended period of time.
Mounting
Industrial scissor lifts and tilters can be mounted in any number of ways to meet specific application requirements.
Surface mounted lifts are used when the lowered height does not interfere with the application. For example, if the lift is lowered with material stacked on a pallet and the pallet is then removed by a fork truck, the lowered height of the lift does not interfere with the application because the fork truck does not need to drive onto the lift to pick up the loaded pallet.
Pit mounted lifts are suitable when the platform must be flush with the surrounding surface. For example, if the lift is lowered as materials are stacked on a pallet and the pallet is then removed by a pallet jack, the platform must be flush with the surrounding surface because the pallet jack must be able to roll onto the lift platform to remove the loaded pallet.
Mobile (or portable) lifts are used when the unit must serve more than one workstation. A mobile lift can be manual or power driven. Mobile lifts can also be used to transport a load from one location to another. The lift can be track mounted or have fixed or moveable castor wheels for manoeuvrability.
HOW? Choosing the right product for the application can be difficult and careful consideration is required to make sure your purchase is effective and productive.
Sequence of operation
How, where, when and why will the lift be used, and what is the lift expected to do?
Lifting capacity
What is the weight of the load in kilograms? (And don't forget to include any conveyors, pallets, carts, operators etc.)
Edge loading capacity (ends and sides)
How will the load get on and off the lift? Will it roll over the sides or ends, be placed on by a fork truck etc? Is the load concentric and evenly distributed? Is the load static or dynamic?
Platform size
What platform size is needed to adequately support the load, any material handling equipment and a riding operator?
Lowered height
What is the maximum lowered height acceptable for the application? Can the lift be pit mounted? Is mobility required?
Travel
If the lift is pit mounted the travel required is equal to the highest elevation the platform must reach. If the lift is surface mounted, the travel required is equal to the highest elevation the platform must reach minus the lowered height of the lift.
Raised height
The distance between the surface on which the lift is sitting and the platform height when the lift is fully raised.
Power unit
What electrical power is available to operate or lift? If pneumatic, what air pressure is available?
Speed and frequency
How fast does the lift have to travel to satisfy the application? Are the required up and down speeds the same?
Controls
What operating controls are required (pushbutton, footswitch etc)?
Accessories
What optional accessories are required?
Perhaps the most important decision you can make is choosing the right adviser to guide you through the myriad of options and features. In our experience – experience matters!
Safetech
1800 674 566
www.safetech.com.au