Scissor lift table just what the doctor ordered
31-08-2010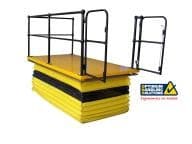 Perfect safety solution … scissor lift table from Optimum
For many businesses, scissor lift systems are a second line consideration.
Their potential to raise efficiency and productivity is often overlooked.
However, this view may be limited.
Optimum Handling Solutions hydraulic scissor lift tables are becoming increasingly popular in diverse industries such as food manufacturing, printing, mining, cabinet making, metal parts and the construction industry.
Optimum recently carried out a project for a Queensland hospital, where the site had major redevelopment works. Pedestrian access was cut off to the mortuary section of the hospital.
This caused a major safety concern for the hospital.
Optimum Handling came up with the perfect solution.
It recommended using a hydraulic scissor lift table with a custom 2400mm x 1400mm slip free platform decked out with safety controlled gates and hand railing.
The scissor lift table carried up to three people and relayed equipment up and into the morgue area with complete ease.
The Engineer and Safety Officers of Optimum Handling Solutions received commendations for their work and the operators are healthier and safer.
Optimum offers a wide range of applications to meet the customer needs and expectations.
Its scissor lifts are available with specific control functions to suit the customer's requirements, from basic push button operation through to automatic sensor level control. Platform dimension, lift heights, weight capacities and control options can all be tailored to suit specific needs.
Optimum Handling Solutions
Ph: 1800 066 008