Published 10-06-2021
| Article appears in June 2021 Issue
Schibello Coffee gets a latte love from St.George Bank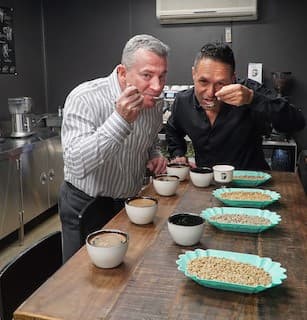 St.George Bank's Matthew Kelly (left) and Schibello Coffee's Ross Schinella partaking in the cupping process. Below: Ross flanked by Matthew and St.George Bank's Peter Crabtree.
Simple, high-quality coffee is revered in Italy. So when an Australian of Italian heritage, who has been involved in the coffee business most of his life and visits Italy regularly, tells you that Australian roasted coffee is the world's best, you sit up and take notice. And when he goes on to tell you that his business will soon launch one of the country's first Australian grown and roasted coffees, then you really take notice.
The man we are talking about is Ross Schinella, co-founder of the Schibello Coffee Group. He and business partner Tony Sorbello have come a long way since their business venture's humble beginnings in a Gladesville garage in 1999. 
At the time, there were just 22 coffee roasters in Australia, says Ross. By providing old-fashioned service and building relationships, Schibello Coffee Group has grown to now have national and international presence. 
Schibello's latest goal is to launch its own fully fledged Australian-made product in a market shared by nearly 1,100 roasters. This new blend will be grown in Australia, harvested by Australians, roasted on Schibello's premises in Sydney and Brisbane, and sold in Australian-made packaging. It may even be bundled with an Australian-made coffee machine. 
Why is this so significant? The majority of the Australian coffee market imports raw coffee from countries such as Brazil, India and Colombia to then roast here, as locally grown coffee is rare and also far more expensive. However, Australian-grown coffee is a growing space and Schibello wants to bring visibility and support to local farmers through this new project, as well as explore the unique flavours of our local crop. 
"In Australia, we've got amazing coffee. Not just great coffee," Ross told Industry Update. "Worldwide, we are the leaders in coffee. I can tell you, I've travelled all around the world and been to every single corner that has coffee, and nobody does coffee like Australia. It's because we're dedicated to bringing to life amazing experiences, and we're educating the rest of the world," said Ross.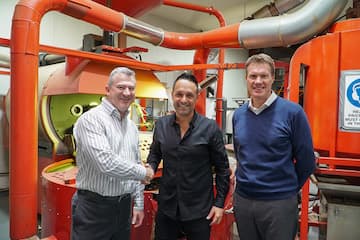 In addition to its Sydney and Brisbane roasteries, Schibello is also looking at expanding its facilities to Melbourne. It also has roasting rooms in Singapore, and exports to Fiji. 
"Fiji is our biggest-growing market at the moment. We're lucky to have some great partners there, and we are probably among the top two brands in Fiji. We also sell coffee in the US; it's a lengthy process but we'll slowly educate them on quality and better experiences," said Ross.
Ross and Tony took their business to another level in 2014 when they acquired the boutique brands Arte Coffee Roasters and Cleanskin Coffee Co. Ross says the latter is not for everyone but is featured in a selection of specialty coffee outlets, where the focus is to create unique coffee experiences. Arte Coffee is targeted at the conscious consumer market, with a portion of all sales donated to the International Women in Coffee Association. 
Like good coffee, there's more to Schibello than meets the eye. Its offering to café partners includes barista training, equipment and merchandise support, business advisory and even design consulting.
What are Schibello's biggest challenges? Ross says that the closing of Australia's international borders has created a shortage of hospitality workers and skilled labour from overseas. "There are so many businesses out there chasing chefs, baristas and floor staff. Operators are going back on the tools because they have been forced to. They can't work on their business while working in the business."
Ross is the first to admit that the business could not have grown to where it's at today were it not for a helping hand along the way from St.George Bank. He partnered with the bank from day one, back in 1999. While the loans have grown since then, so too has the relationship.
"That's the nice thing about St.George. They've always had key personnel who are accessible and that's important. Sometimes you have to make calls and decisions and you don't need the red tape. The current team at Parramatta are awesome," said Ross.
"Industry people are also key in this relationship. The best thing St.George Bank did was introduce the industry division, because they have people in there who actually know their stuff. They're always helpful and always ready to lend a hand. 
"We've probably stayed so tight because they get us. Guys like Matt (Kelly, Head of Manufacturing and Wholesale) and Pete (Crabtree, Relationship Director) have always been readily available to give us the best advice. The industry experience is important because they obviously know trends.
"If anyone asks me who are the best out there, I always say St.George."
St.George Bank's services to Schibello don't stop at loans either. The bank has been able to help the roaster with advice on currencies and provide access to experts outside the industry on topics such as assets, insurance and superannuation.
Matt, who has known Ross nearly as long as Schibello has been in business, said: "Our relationship has grown over a number of years. We're proud to have been able to assist them in their acquisitions and growth strategy to help them achieve their goals. We look forward to doing that for many years into the future and using our contacts to help them grow and take advantage of whatever opportunities are out there, such as government grants or R&D opportunities."