SCHAEFFLER PROVIDES THE FUTURE OF PREDICTIVE MAINTENANCE
18-10-2016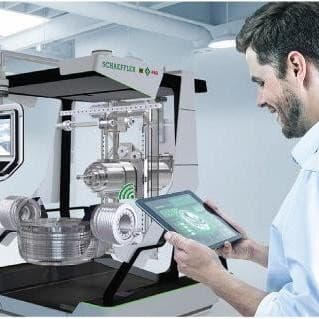 What sounded like science fiction just a short time ago is now a reality in the new predictive maintenance systems becoming available from members of the global Schaeffler Group such as Schaeffler Australia.
The company's automated rolling bearing diagnostics and the calculation of the remaining useful life of bearings are important components of Industry 4.0, which refers to a fourth industrial revolution (following water/steam power, mass production and automation through IT and robotics). Industry 4.0   introduces the concept of 'cyber-physical systems' to differentiate this new evolutionary phase from the electronic automation that has gone before.
"All machinery – all motors, drives, shafts, conveyors, wheels – depend critically on bearings, whether you're in an outback mine, city factory or an urban water or energy plant supplying the population," says Mark Ciechanowicz, Industrial Services Manager, Schaeffler Australia.
Plant maintenance and operational staff were given an insight to the future at this year's Hannover Messe 2016, the world's biggest industrial trade fair, where Schaeffler presented to the 250,000 visitors its new predictive maintenance solutions that provide machine operators with information about the future condition of their machines.
Schaeffler technologies flowing on into Australia in time for the Christmas New Year maintenance season included the FAG SmartCheck diagnostic system, which transfers data to the cloud. "The cloud provides greater processing power and a wider range of analysis options than existing purely local calculation systems", says Ciechanowicz.
"This type of predictive maintenance allows not only the capacity utilisation of factories, processing plants and utilities to be optimised, but also makes it possible to plan maintenance intervals," says Ciechanowicz, who is responsible for advanced technologies such as the early warning system FAG SmartQB.
FAG SmartCheck from Schaeffler. With around 84,000 employees, Schaeffler is a global bearing technology authority with approximately 170 locations in 50 countries including Australasia, which has access to a worldwide network research and development facilities that complement extensive local capabilities.
This user-friendly technology comprises a FAG SmartQB sensor unit (a variant of the existing FAG SmartCheck), a cubic housing with a touch panel, and a cable for power and data transmission. The system was specially developed for detecting irregularities in electric motors, pumps, fans, and their rolling bearings, and is supplied with a ready-to-use configuration suitable for Australasian conditions.
Schaeffler Australia
02 8977 1000