SAVINGS WITH KAESER'S EXPANDED ASD SFC SERIES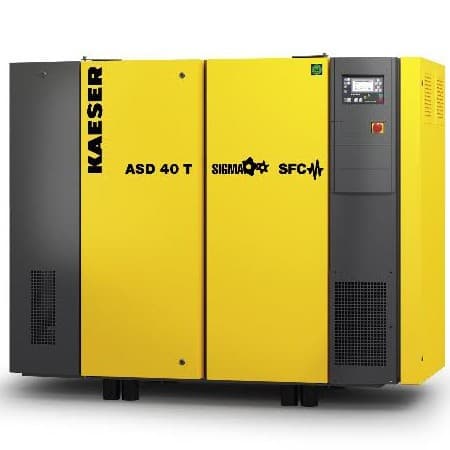 With the recently expanded ASD SFC series of Sigma frequency controlled rotary screw compressors, Kaeser has been able to deliver more compressed air for less power consumption.
The new screws combine ease of use and maintenance with exceptional versatility, all in an environmentally responsible design. With the new 22 kW ASD 40 SFC and ASD 40 T SFC produce air deliveries between 1.02 - 4.58 m3/min.
The ASD SFC, are available with drive power 22 to 30 kW, working pressure 7.5 to 15 bar with free air deliveries from 0.92 to 6.04 m³/min. 
Idle periods are minimized with the ASD series thanks to the PC-based Sigma Control 2 compressor controller ensuring control and monitoring.
The ASD SFC models are designed including variable speed control; the volumetric flow rate can be adjusted within the control range according to pressure, resulting with operating pressure that is maintained to within +0.1 bar.
The SFC variable speed drive is situated in its own control cabinet to protect from the heat of the compressor. A separate fan keeps operating temperatures in the optimum range to ensure maximum performance and service life.
 Kaeser
1800 640 611