SAVING COSTS OF GENERATING COMPRESSED AIR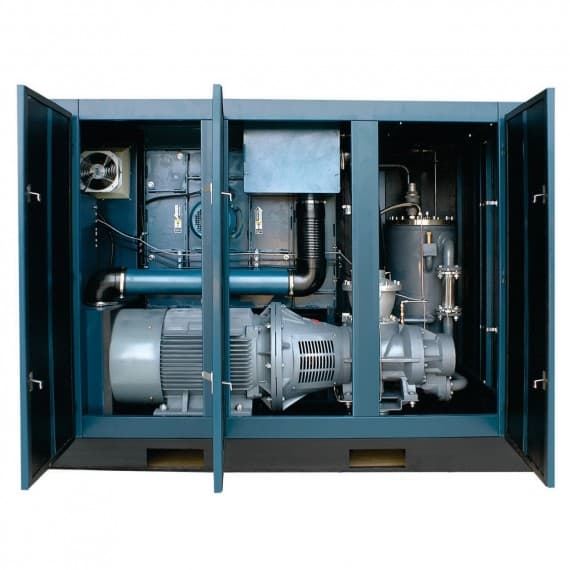 Installing the right compressed air system for your particular application is fundamental to minimising the cost of energy.
There's a lot to consider when selecting and installing the right compressor.
What volume flow rate output do you need? What discharge pressure do you require? Do you need constant or variable speed?  Do you want a compressor that will cater for future growth? ...  and which company can supply and maintain the right equipment for your purpose and budget?
Southern Cross Compressors (Australia) Pty Ltd offers a wide choice of outputs in a new, world class range of heavy duty, high quality, rotary screw compressors for Australian industry.
Built around the large, slow running, SKY series Airend with an asymmetric 5/6 rotor profile, the new KHE rotary screw range produces maximum output with reduced energy usage.
High efficiency electric motors provide longer operating life with lower power use and comply to Minimum Energy Performance Standards MEPS2. 
Direct Drive, 1:1 ratio with no gearbox means longer life, minimised transmission losses and reduced maintenance.  
Southern Cross screw compressors feature 316 stainless steel control tubing throughout, centrifugal cooling fans, "Ultra Web" low pressure drop air intake filters and a host of other built in advantages.
All Southern Cross compressors are fully backed by up to five-year extended warranty and supported with 5-star, customised service plans.
Southern Cross also offer a totally free compressed air assessment service to recommend the right system or upgrade to achieve your specialised needs.
In many cases where the existing system is running inefficiently due to leakage, restriction and or wear and tear, Southern Cross can clearly demonstrate the savings to be achieved through repair or upgrading of the system.
Southern Cross Compressors (Australia) Pty Ltd
Ph: 1300 738 593