Save wrap film with Technowrapp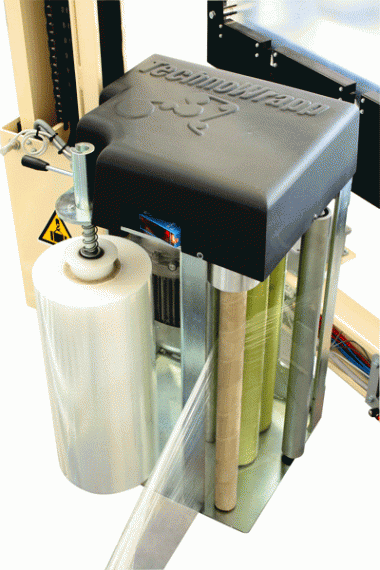 TechnoWrapp S.r.l. from Fonzaso Italy, have announced the further development of their pre-stretch carriage for their range of stretch wrapping machines. They are now able to reduce stretch film consumption, wrapping a pallet with just 76 grams of stretch film, saving 20% of film from their previous model machines.
The film is stretched by 340%, allowing the machinery to wrap a 800x1200mm x 1500mm high pallet, with 10 layers of wrapping and a film thickness of 15 µm. Technowrapp claim that by using only 76 grams of film the savings achieved on just 10 pallets per hour across a year is 3,500kg compared to traditional pre-stretch wrappers.
The load sealing tests performed by Technowrapp technicians showed that a load wrapped via this new pre-stretch carriage had excellent sealing capacity at a tilt angle of 30º was achieved
TechnoWrapp manufacture a complete range of stretch wrapping machinery for palletized loads including turn-table, rotating arm and rotating ring machines with and without top sheets for covering the load and are currently installed in over 50 countries worldwide.
TechnoWrapp S.r.l. is represented in Oceania by HBM Packaging Technologies.