SANDVIK'S 14-EDGE FACE MILL BOOSTS OUTPUT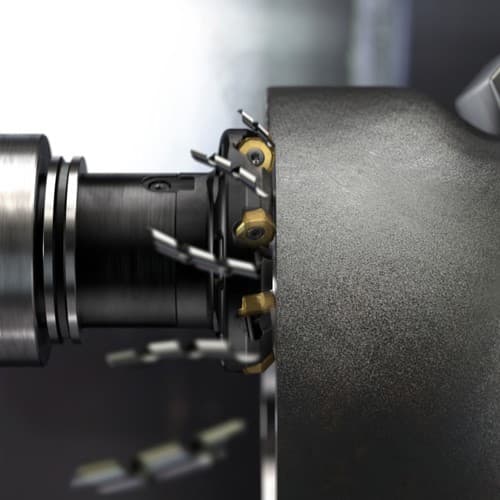 Amidst changing trends in large-scale machining, Sandvik Coromant has stepped up to the challenge with its first double-sided, multi-edged face mill: the CoroMill® 745.
In part driven by greater demand for near-net-shape forged components and flexible machines replacing dedicated transfer lines, Sandvik's mill aims to maximise the yield from these shifts in approach, and reduce the cost of components.
Double-sided inserts in and of themselves aren't an innovation, but their use can be problematic, producing higher cutting forces than single-sided inserts do, creating problems with the milling process.
With this in mind, Sandvik produced a mill that sports a total of 14 true cutting edges, and has been designed with an unconventional insert inclination angle in order to provide a large positive angle on the main cutting edge. This leads to excellent chip formation, a smooth and soft sound, and the low cutting forces usually absent from double-sided inserts.
Advantages are also obtained when used on flexible transfer lines or when maximum tool utilization is important. Here, this productive and versatile face milling cutter is likely to be heavily utilized thanks to its ability to offer increased tool life at a lower cost per component. What's more, it is set to boost the options for engineers requiring lower cutting forces in the machining process, perhaps when using low-powered machines, for example, or where the set-up is not particularly robust.
Although the general engineering segment will benefit from the high productivity, reliable performance and low cost per component introduced by the innovative cutting action and strong inserts, manufacturers in industries where automated production is more prevalent can also anticipate significant advantages. For example, those relying on unmanned production will be able to leverage the cutter's high security and predictable performance.
CoroMill 745 is able offer process and cost improvements on familiar automotive parts that include engine blocks, connection rods, universal joints, gearboxes and rear axles, for both on- and off-highway vehicles. This is because reliability was a central issue at the heart of the cutter's development.
The insert position and seven-cornered insert shape make for easy replacement and indexing, meeting the challenge of a fast-paced production workflow, where modern timesaving and 'green light' machining demands put pressure on fast and reliable maintenance.
As a further benefit, due to the large screw hole, less powder is used in the insert manufacturing process at Sandvik Coromant, thus benefiting the environment.