Sandvik unveils new multi-edge milling cutter
31-08-2010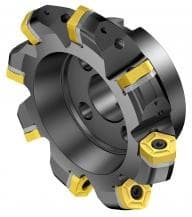 Sandvik Coromant has released the CoroMill 357 – a new tough multi-edge face milling cutter for roughing and cubing in steel and cast iron with high insert security.
CoroMill 357 is ideal for applications such as rough face milling, cubing, intermittent component figurations, components with uneven stock or forgings and welding and castings.
Applying CoroMill 357 for these applications achieves a high metal removal rate and improved productivity.
The CoroMill 357 multi- edge design is a cost efficient solution.
With double-sided thick pentagonal inserts housed in shim-protected tip seats, it guarantees reliable performance.
Its secure and strong cutter body features an innovative insert clamping system that offers quick and easy insert indexing to save you time.
Large support-faces radially, axially and on the base prevent deformation, ensuring a consistent performance.
Suitable for ISO 50 and larger machines CoroMill 357 takes a depth of cut up to 10mm (0.394 inch) with a feed per tooth up to 0.7 mm/z (0.0276 in/z)
CoroMill 357 is available in diameter sizes 100-315 mm (4-10 inch).
For more information visit: www.sandvik.coromant.com/productnews