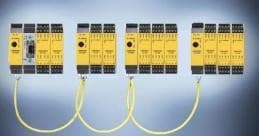 Treotham Automation is now supplying Wieland samos PRO system which can be safety interconnected via the dedicated samos NET bus system.

The system is programmed using Samos PLAN v 1.3 which is a graphical user interface for configuration and parameterisation of inputs and outputs.

The advantages are:
Modular and highly flexible
Intuitive programming
Offline simulation function
Monitoring logic for actuators
Automatic sensor detection
Function block library
Gateways
Online diagnosis
Forcing function
Memory plug for program protection
Standard compliant documentation.
Samos PRO is the smallest and fastest modular compact safety control for the monitoring and control of mechanical and system engineering applications for up to Category 4 (EN954-1), PLe (EN13849-1) and SIL3 (EN62061).

It is also suitable for complex applications with the highest safety requirements where conventional relay technology reaches its limits.

Treotham Automation
Ph: 02 9907 1778
www.treotham.com.au