SAME-DAY SERVICE SETS BENCHMARK FOR CABLE SUPPLIES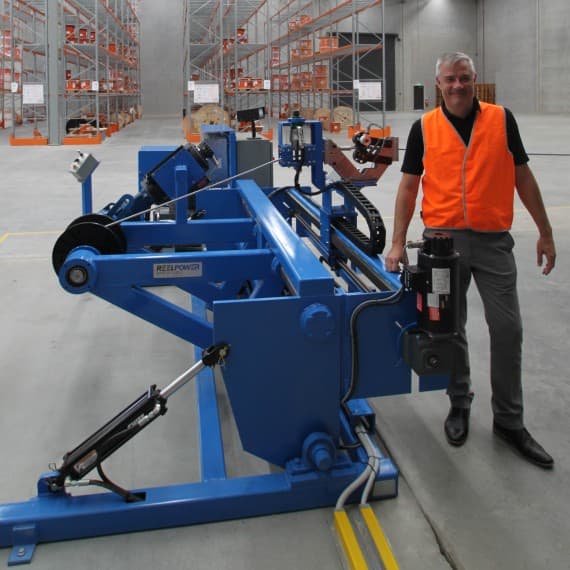 Lapp Australia General Manager Simon Pullinger with his new cable-cutting machine
Lapp Australia has achieved a major service milestone by completing a large cut-to-length cable order on the day it was received. The rapid turnaround was made possible using the latest cable-cutting technology installed at Lapp Australia's headquarters in Western Sydney, which can cut a variety of different cable types up to 37mm diameter to precise lengths.
These can be precision finished to global reliability and service standards, ready to be shipped out to manufacturing, automation and robotics, machine builder, food and beverage and other industrial companies across Australia.
"Having a fully functional cable cutting machine online is an integral step in our introduction of high service standard benchmarks in Australia. Lapp Group globally has a strong emphasis on customer service and fast delivery times, and we will extend that customer advantage throughout Australia," says Simon Pullinger, General Manager, Lapp Australia.
"Lapp Australia is seeking to establish a new benchmark for service in Australia, as industries expand and automate to meet higher demands and 24-hour production and automation cycles," he adds.
"Customers often want to buy cable in bulk, but prefer it cut into smaller sections. For example, we'll get an order for 1000 metres of cable, cut into 100 metre sections. With our new machine, we can set these parameters and immediately achieve this result with absolute precision."
"This cable cutting capability greatly strengthens our service offering in Australia and allows Lapp to provide faster delivery times and tailored deliveries."
Since establishing a permanent Australian operation in February 2018, Lapp has already seen a strong demand for its products, particularly in automation, which is an expanding industry in Australia.
According to Simon Pullinger: "In addition to end users, we're supplying our cables and accessories to automation companies, system integrators and subcontractors that are responsible for managing the automation of a warehouse, factory or assembly line."
"These companies, especially those who are reporting to valued customers with multiple sites, value quality product and reliable service. Having a local operation means that we can now stock over 1000 products in Australia, and we have access for quick deliveries for the full range of over 40,000 from our headquarters in Germany," he concludes.
Lapp Australia
1800 931 559
www.lappaustralia.com.au