For sale: Yahoo! Slightly used, in good condition
18-04-2016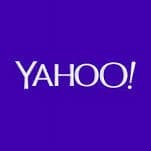 22 years ago Yahoo graced the Internet and has slowly climbed to become a household name.
Now, despite being the third most trafficked on the Internet (according to measurement company comScore) the website is going up for sale.
But with such a rank and a hefty boast of a billion unique visits monthly, why would it be going up for sale?
Simply put, the company hasn't been able to keep investors happy. Six different CEO's have come and go over the last decade, the latest being Marissa Mayer, one of Google's earliest employees
"It's not like Yahoo doesn't have revenue coming in, they do," says analyst Rob Enderle. "They just don't have enough revenue coming in to cover the costs."
According to eMarketer, the company is expected to obtain more that $2.6 billion in global digital ad revenue.
In total that's only 1.5 percent of the online ad market. Google and Facebook control 40 percent.
Even with high content acquisitions like the blog site tumblr, Yahoo search has continued to lag behind.
Although it is the third ranked search engine in the United States, Google owns 65%, Yahoo owned 13% and Bing holds the rest. 
"Yahoo itself has never been anyone's favorite," says Jen DeMayo, who co-founded a listserv for parents in the Washington, D.C., area with 6,500 subscribers.
"It's just sort of the platform where it started and no one's moved it anywhere."
There has been mass speculation as to which companies are going to bid for the online company. Potential buyers include Verizon, AT&T and Comcast
Although these companies already have means of reaching people online, owning Yahoo will give them access to a wider range of 'user data'
What will happen to those who use Yahoo products is still unclear, the future of the company really does depend on who buys it.