SAGE Group launches automated shopping trolley sanitiser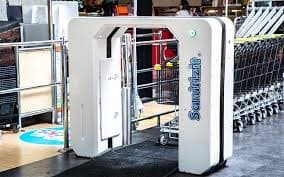 Automation and industrial company SAGE Group has launched a new automated machine capable of sanitising entire trolley lines.
A first of its kind, the 'Sanitizit' will be installed at supermarkets and is capable of cleaning the whole trolley, not just the handles. It can also be used in airports and hospitals.
SAGE CEO Adrian Fahey said the company would manufacture and support installation of the devices, after a chance discovery.
"I was fortunate enough to come across this product in the USA through one of our partners," said Mr Fahey.
"Our team have since worked closely with the inventor to adapt the product to suit Australian conditions and requirements."
Fahey said: "SAGE has always been at the forefront of innovation and I think this is another great example of this.
The first unit is installed for testing in a Drake Supermarket in South Australia.
"We can put a run of trolleys through and it puts a fine mist across the whole trolley, not just the handles but the whole trolley," supermarket owner John-Paul Drake said.
"That mist kills 99.9 per cent of all bacteria."
Drake Supermarkets plans to roll the units out across its 42 stores, while SAGE is working with a number of other supermarkets nationally for future trials.
SAGE Group formed an exclusive partnership with Sanitizit for the manufacture, lease and service of the sanitising systems throughout Australia and New Zealand.