Safety warning on building sites
31-08-2010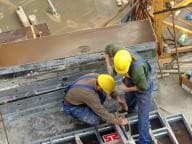 WorkSafe VIC inspectors are finding high-risk construction work being performed on up to 20 construction sites every week without a suitable safety plan.
WorkSafe's Construction Manager, Alan Beacom said in most cases the work was also being done unsafely.
A review of three months of WorkSafe's construction site inspections found 226 sites where work had to stop because SWMS were absent, inadequate or not being followed. 
Mr Beacom says an effective safety plan can help save lives, prevent injuries and get work done more efficiently.
WorkSafe inspectors will soon launch a statewide, Back to Basics campaign focusing on safety planning for high risk construction work.
"We will impress on builders and their sub-contractors that high risk construction work – like working at height, use of mobile plant and working near electrical installations - requires good planning and effective supervision.
It is a joint responsibility of builders and sub-contractors to ensure SWMS are produced and followed.
"SWMS were introduced in 2007 and became a legal requirement a year later. If they're not in place or being followed builders and sub-contractors should not permit work to start or continue.
"Unfortunately, even after five years some builders and sub-contractors have not fully implemented SWMS into their businesses. It's putting their workers and businesses at risk."
WorkSafe will soon introduce a 12-month back to basics campaign, which will look at a range of safety issues beginning with induction and training as well as site housekeeping.
"The effect of this enforcement action may be that work is disrupted and delayed while the safety issues are resolved."
"Having everything in place when the inspector arrives, means the visit will be quick and everyone will be able to get on with the job."
Information on a range of construction industry health and safety issues including high risk construction work, SWMS and a detailed Back to Basics checklist can be found at: www.worksafe.vic.gov.au/construction.