Published 30-05-2019
| Article appears in June 2019 Issue
SAFETY RELAYS PROTECT PEOPLE AND EQUIPMENT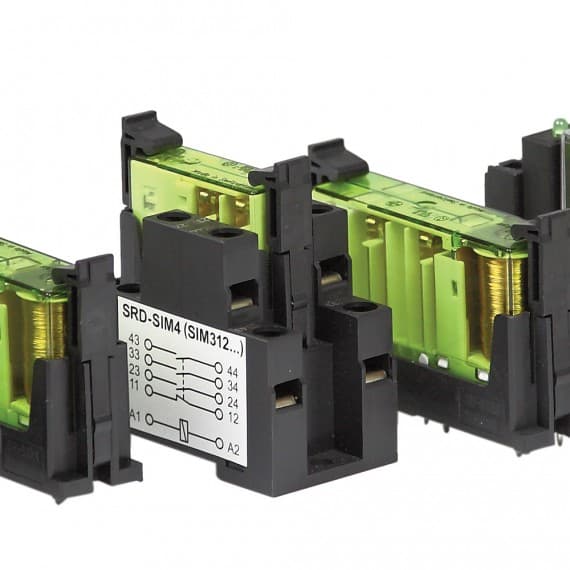 Arlin Components & Hardware offers a range of safety relays from Swiss manufacturer Elesta GmbH.
These forcibly guided relays are used in safety-oriented applications for the decoupling of different voltage potentials. They have a dual function to protect people from injury as well as protecting expensive equipment from damage.
Safety relays enable the construction of self-monitoring systems, and are used in applications ranging from emergency off circuits to elevator controls and complex machine controls. They are often a fundamental part of achieving conformance with safety standard AS61508 – Functional safety of electrical/electronic/programmable-electronic safety-related systems.
Compliant with IEC 61810-3 (formerly EN 50205), Elesta safety relays consist of a minimum of one normally open and one normally closed contact. The contact spring assemblies and other conducting parts in the relay are designed to ensure no short circuits of conducting connections can occur, and the relays are produced with elevated standards of insulation and pollution resistance.
In accordance with AS61508, the relays come with guaranteed working life specifications (B10 and B10d), which allow the Safety Integrity Level (SIL) of the application safety circuit to be determined.
A white paper "What is AS61508 and how is it different from AS4024?" is available, which includes the importance of following AS61508 from the outset.
Using safety relays
The configuration of safety control circuits is only possible for specific fault conditions. However, the key characteristic of safety relays is that the 'make' and 'break' contacts can never both be closed at the same time.
The circuit diagram below shows an emergency stop control circuit made using three 4-pole safety relays.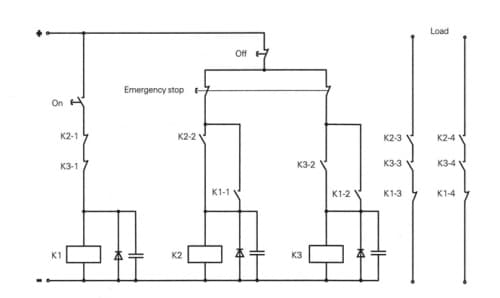 The key to the design is in its redundancy, and so the first fault to occur does not cause the safety function to fail. However, the trip is visible (self-monitoring), and it does prevent the equipment from being restarted.
In operation, closing the 'on' switch causes the K1 relay to be pulled in. The K2 and K3 relays are energised via the 'make' contacts K1-1 and K1-2, and hold themselves via K2-2 or K3-2. The 'break' contacts K2-1 and K3-1 cause the dropout of K1 where the load circuit is released via the 'break' contacts of K1-3 or K1-4.
So, for example, if contact K2-3 were to fail to open, K3-3 will open when the emergency stop switch is actuated. And as K2-1 and K2-3 cannot both be closed at the same time, pressing the 'on' button does not cause K1 to close and the equipment cannot be restarted.
Similarly, if contact K1-3 fails to open, K2-3 and K3-3 will open when the emergency stop switch is actuated. In this case, K1-1 and K1-2 cannot close because K1-3, K2 and K3 are already closed, so the equipment cannot be restarted.
Arlin Components & Hardware
1300 362 191
arlin.com.au