Published 30-06-2020
| Article appears in June 2020 Issue
SAFETY A PRIORITY IN TENTE CASTORS AND WHEELS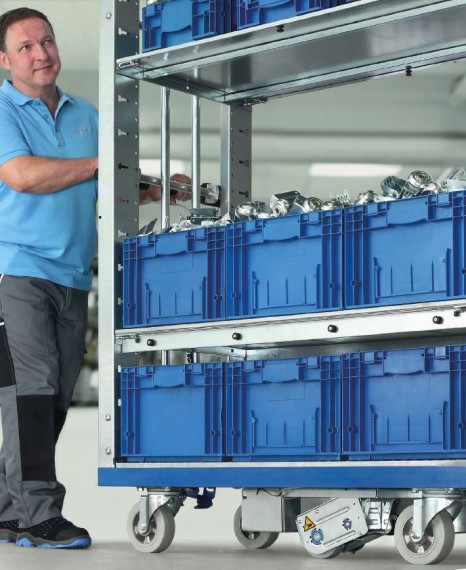 For industry, the new normal is about moving forward. Much can be gained by businesses that take the time to create pathways to the future with the fewest obstacles in their workplaces and warehouses.
Machine and workshop equipment are often found in rough environments and are themselves heavy loads. To make this machinery mobile takes the heaviest-duty industrial castors and wheels.
Global intralogistics leader Tente is focused on providing businesses with options to keep them on the move with benchmark standards. Since 1923, Tente's range, designs and business practice prioritise safety, ergonomics and efficiency.
Tente has made it their mission to produce castors and wheels that ensure that client satisfaction and safety are top priority.
Businesses can rely on Tente products to be constantly innovating according to industry needs while adhering to the company's tenets of productivity, durability, design, safety and environment.
In many instances of workplace mobility, the wheels sitting under a machine are largely over-looked, but this is where much of the action takes place. Problems of warehouse wear and tear are easily avoided if businesses make the right choice when it comes to castors and wheels.
Tente has a wide range of made-to-measure mobility solutions for all rough and heavy load environments where quickly and safely getting from A to B is the desired outcome.
The company's smartest solution is 'E-Drive', a powered drive unit that can effortlessly transport large volumes of goods, improves productivity, enhances staff wellbeing and reduces operating costs all at once.
The high flexibility and improved ergonomics of the E-Drive make it a breeze to operate. The wheel retracts when in standby mode for improved manual movement, while the system itself can be easily integrated into existing appliances.
In high load capacities, castors that are wear-resistant have safety locking and break guarantees are a must. On busy timelines, the Tente Delta's precision ball-bearing allows for easy manoeu-vrability and improved driving stability. Its directional locking device can help both with managing the curves and line driving on long roads. The wheel's optimized rolling resistance helps relieve the user.
If high wear is the issue, especially with uneven floors the strong housing construction made from extra sheet steel is where Tente's Zeta castors can help. There is the added bonus of its low maintenance costs for long use, along with its reinforced directional lock and partially elastic foot protection important against accidents.
In our environmentally intelligent industry, ergonomic design is a priority. Little physical effort and low swivel resistance from the Tente Linea twin wheel castors is important in user-led handle operations. For increased safety, the trolley only rolls when actively operated by user. Another unique factor: the Linea can be color-coded for transport to certain locations or departments, or logo-branded to reinforce company style.
Still within Tente's safe working process, the Alpha Safety castors are automated so that the ma-chine is mobile until the operating handle is released. This adds to being accident-proof because optimum force is required to operate the handle.
With workplace safety an essential, product protection is also guaranteed on all Tente castor equipment. The flexible rubber guards on the castors prevents accidental contact between the us-er's feet and the wheel. Even on inclinations of fifteen degrees it is efficient while the added steel made guard rail ensures the foot are guided to the side of the wheel. The rubber guards are easily retrofitted on the Delta, Zeta and Kappa family of products, which makes it uncomplicated if you have a mix of different wheels.
The wide range of choices and options found in Tente's product line make planning for the new normal a cinch. Tente's castors and wheels are designed to save time, effort, energy and operating expenses. The company's long track record assures clients that working with Tente means optimising efficiency and high profitability without the fuss.
As the wheels of change roll on for industry, make sure to include Tente in your next business plan. Contact the experts at Tente and ask for their catalogue, or visit www.tente.com for more information.