SAFETY LIGHT CURTAIN FEATURES NOVEL TRANSCEIVER-BASED DESIGN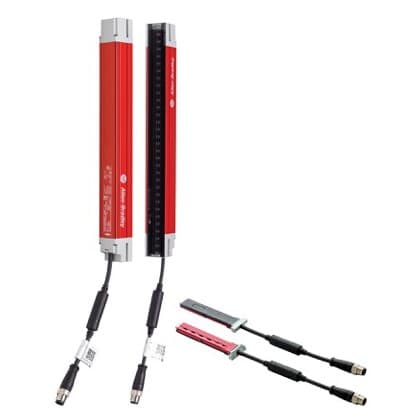 Rockwell Automation describes the new Allen-Bradley GuardShield 450L safety light curtain as a flexible and cost-effective solution that enhances safety while improving productivity. The novel design is based on a transceiver in the GuardShield stick that accepts different plug-in modules that set each unit's function as either a transmitter or receiver.
This flexible design means that users can purchase multiple identical GuardShield 450L sticks for different machine guarding tasks and customise the features using different plug-ins.
There are two types of plug-ins. Five-pin plug-ins provide basic on/off functionality, whereas eight-pin plug-ins provide manual and auto restart with external device monitoring. The setup of each plugin is simply a matter of configuring DIP switches to set the advanced function settings.
The GuardShield 450L has an active sensing field that runs the entire length of the transceiver, with none of the inactive sensing areas that often occur at the top and bottom of other light curtains. This makes it ideal for full coverage hand and finger detection.
Thanks to the compact design and full-length sensing field, the GuardShield 450L light curtain system can often be installed inside a machine frame as opposed to outside or on the machine. A range of flexible mounting kits with built-in alignment indication also simplify installation.
Rockwell Automation
1800 762 593
www.rockwellautomation.com