SAFETY LADDER MANUFACTURER LANDS IN OREFIELD
18-10-2017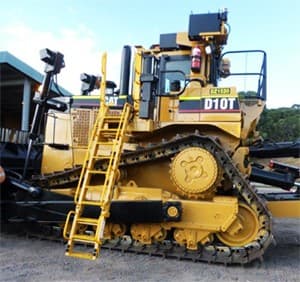 A business born in Australia in 1997 is now under new ownership based in the Lehigh Valley.
Access Innovations Global LP was purchased by Australian native Bobby Lanyon and relocated to Orefield to continue the companies long tradition of safety system manufacture.
Manufacturing of the safety and accessibility equipment will be contracted out to local companies. Product sales will remain global.
Access Innovation fills a very specific need in the excavating, mining and other industries that use large, earth-moving equipment, Lanyon said.
"When you buy large excavating equipment from companies like Caterpillar, they can be [very high] and they don't always come with a way to get up on them," he said.
Access Innovation provides a solution, manufacturing ladders that can be attached to the cab door of the equipment to climb its side. They then can retract and be folded away once the driver is safely inside. That way, it doesn't affect operation of the equipment.
Lanyon said the idea was spawned after a number of serious incidents on job sites in Australia, where operators were injured trying to get on and off the equipment.
"That's a huge risk for the individual and a huge liability for the company," he said.
Access Innovations
07 3040 7752
www.accessinnovationsglobal.com