SAFETY FIRST FOR TELESCOPIC LADDERS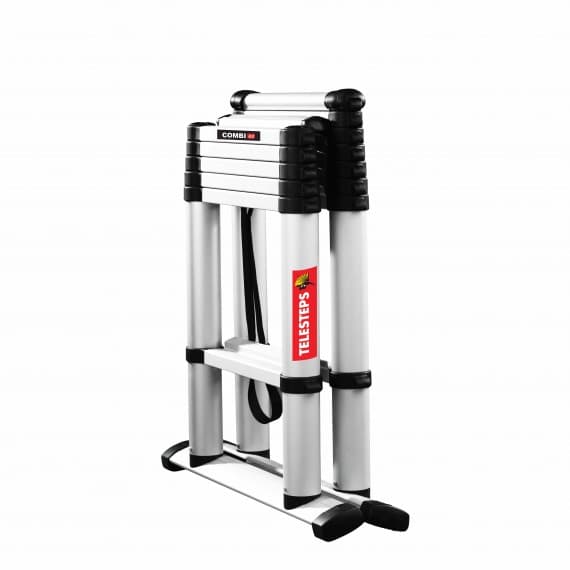 Combi Line ladder collapsed (above) and extended (left)
The world famous Telesteps telescopic ladder range has arrived in Australia and is available now from WorkSafeTools.
The Swedish-designed ladders are made from anodised aluminium with glass-reinforced plastic fittings, which makes them strong, lightweight and durable. And the telescopic design is packed with novel design ideas that make them the safest in their class - certified according to the latest Australian Standard (AS/NZS1892.1:1996).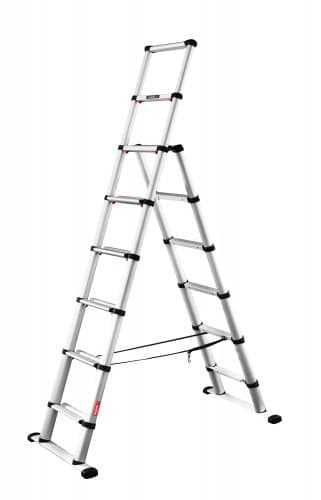 The ladders are easy to pull out to the desired length and are quickly and safely secured with red locking catches under each rung that confirm that the ladder is ready for use and can handle loads up to 150kg.
The angled ladder steps have wider treads for ergonomic use and maximum grip when climbing up or down, and there's a built-in rubber top support to add grip and reduce side ways movement.
Once the job is done and it's time to collapse the ladder for transportation, a novel braking mechanism using silicon dampers ensures that the ladder can be packed away safely – without trapping hands or fingers.
There are three styles available in Australia. The Prime Line is the straight telescopic ladder that extends up to 3.9 metres, yet is as short as 800mm when collapsed. The Combi Line is an A-frame work ladder that reaches up to 3.1m and collapses down to 780mm. And the Solid Line is a sturdy work platform offering working heights up to 2.6m.
Thanks to their compact size, all types are ideal for any kind of mobile workforce, while also having the enhanced stability required for fixed work on construction sites, in facilities maintenance and in warehousing.
In addition to selling the Telesteps range online, WorkSafeTools is also looking for dealers.