SAFETY CULTURE TO THE FORE IN SYDNEY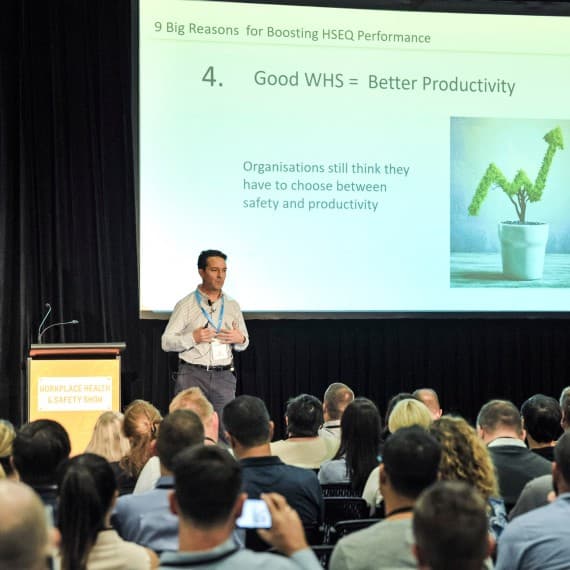 For all the safety equipment on show this week at the Workplace Health & Safety Show at the Sydney International Convention Centre, the strongest message to emerge from the first day was the absolute necessity to foster a safety culture within any organisation.
The show itself is on track to emulate the success of last year's inaugural event in Melbourne, with more exhibitors and more exhibition space at the 2019 Sydney event and a steady stream of visitors throughout the day.
Once again, the WH&S Show is part of #Safetyscape, an event that includes the SIA's annual conference, and ensured that the exhibition was extremely well patronised during breakout sessions from the conference.
This synergy of events was not lost on SIA CEO Dave Clark, who describes #Safetyscape as "greater than the sum of its parts", citing the involvement of the whole safety sector coming together as a community.
The safety culture message has been reinforced within the #Safetyscape programme, and particularly within the seminar sessions and interactive live theatre that form much of the floorshow at the WH&S Show, with organisations from the National Electrical & Communications Association to the Australian Forklift & Industrial Truck Association stressing the point that safety equipment and regulations can only be effective if organisations address the safety message as a matter of corporate culture.
At the close of the first day, Marie Kinsella, who is MD of show organiser International Exhibition & Conference Group, declared herself pleased with the decision to alternate between Sydney and Melbourne, despite the perception that it is harder to run a successful show in Sydney.
"We look like we're on track to match last year's turnout, which is great for Sydney. And I've met some really interesting people today," she added.
The Workplace Health & Safety Show at the Sydney ICC concludes at 4pm on Thursday May 23rd.