SAFETY BARRIER REELS ARE QUICK AND EASY TO DEPLOY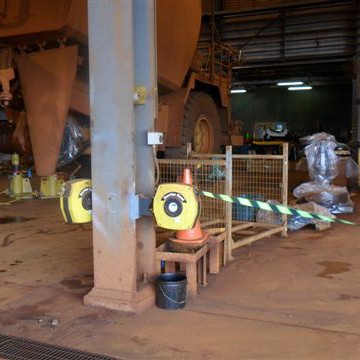 AK Reels has come up with a solution to the problem of safety traffic management in large open areas. The company's RC 3000 Series high-visibility safety barrier reels are easy to deploy and available in lengths from 5 to 25 metres.
Working bays, loading docks, and warehouse doorways generally have fixed safety barriers and signage in place. It is the surrounding open areas where issues often arise. The ability to quickly and effectively cordon off an area more than 10m wide is essential as time can often be a factor in preventing potential injury during pick up or delivery.
The Australian made reels offer a practical solution that is light in weight (at less than 7.5kg for the largest 25m reel) and is made from food grade polypropylene so there are no issues with corrosion. The tape material is woven nylon that is similar to seatbelt webbing, and is printed in colour coded red/white or yellow/black.
Many of Australia's major mining companies have introduced these units into their massive workshops (as seen in the picture). In this application the reels have been put to the ultimate test by the heat, dust and hard work of the operators in the Australian outback. And they have lasted for years.
The practical uses are numerous, and the reels have been widely accepted by safety managers keen to support an innovative Australian product. Custom colours and wording are optionally available as are magnetic brackets that provide complete mobility of the system.
AK Reels
03 9460 4455
www.akreels.com.au