Safetech and Tieman merge to create major force in lifting
31-08-2010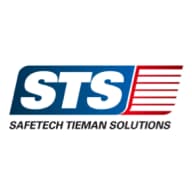 Two leaders in materials handling and lifting – Safetech and Tieman Materials Handling – have merged to form Australia's largest lifting solutions provider.
Details of the merger were announced today.
Industry Update provides this exclusive insight into the behind the scenes events leading up to the merger and how consumers will benefit …
Sixty years ago in a backyard on the northern fringes of a baby boomer Melbourne an iconic industrial company began life.
An entrepreneurial Neil Tieman turned his trade skills into a growing enterprise supplying tanks, vats and stainless steel tankers to Australian business.
In 1972 Tieman Industries expanded into the emerging materials handling industry and very quickly established itself again as a market leader.
Thirty years after Neil had started his corporate success story a second materials handling company was born.
This time the location was regional Victoria. Safetech started from a simple concept designed to prevent injury in workplaces and subsequently grew into the first regional Victorian company to win the National Telstra Business of the Year award.
These two companies became fierce competitors in the Australian industrial lifting market. For many years they were the source of heartburn and anguish to each other but along the way a mutual respect was created. 
They recognised in the other strong core values and design and manufacturing excellence. Worthy opponents.
In 2013 an exciting new joint venture has arrived in the form of a merged Safetech and Tieman Materials Handling – STS Safetech Tieman Solutions.
STS will be headquartered east of Melbourne with sales offices in Melbourne, Sydney, Brisbane, Adelaide and Perth.
It maintains an experienced team of seven design engineers who have built lifting equipment for all industries and all major Australian companies. Design and manufacturing facilities in Victoria are complimented by partnerships in the US, Thailand and China – providing high quality products at the most efficient pricing.
The STS range includes Australia's largest array of dock equipment, freight hoists, pallet handling equipment, workstation cranes and scissor lifts. Recent custom scissor lift projects include two of the largest scissors ever built in Australia – the 25 tonne, 14 x 7m platform truck lifts for the Melbourne Emporium as well as multiple large lifting solutions for Australia's premier miners.
When you shop at Coles, Woolworths, Aldi, K Mart, Target or almost any store in Australia chances are that your purchase will have passed over dock equipment from STS.
The new company inherits the strengths and pedigree of its two founding family companies and a drive to excel as the undisputed market leader in the Australian dock products and lifting market.
STS is without peer for its experience, design skills and market knowledge.
And no Australian industrial lifting company can match its range of products and international partnerships.
Why STS was created and how you benefit
The past 10 years has seen an enormous structural change in Australian industry and the world economy. It has become apparent that scale and critical mass are vital if companies are to prosper long term.
STS is now an obvious first choice for dock products, lifting solutions, freight hoists, pallet handling equipment and many other products in the Australian market.
As a new force in Australian lifting solutions, STS has the size and skills to serve the diverse Australian customer base.
From supplying the major retail chains with quality, modern dock solutions to designing and building specialised handling equipment for the resource industry in the Pilbara, there is no other company with a similar depth of talent and experience in Australia.
The Tieman Materials Handling and Safetech joint venture is a perfect match.
One company's strengths compliments the others weaknesses:
Where Tieman were strong in direct sales Safetech were lacking  
Safetech's focus on engineering delivers STS an enviable engineering resource that has proven itself with the recent design build and installation of the Emporium scissor lifts
Tieman's market share and its established, long term relationships with major Australian retailers and builders provides a platform for growth, as does the Safetech distributor network
Safetech has developed a strong web presence and web lead generation
Both companies have long and trusted international partnerships that offer both product and manufacturing sourcing.
The new joint venture company has an extensive array of market leading products and the best engineering design team working in the Australian lifting solutions market.
It has an experienced national sales force, skilled manufacturing workers and strong management.
STS is a company designed from the ground up to serve the future needs of Australian industry. It has scale, skills, supply options and a focus on the customer at its heart.
STS is open for business.
Safetech Tieman Solutions
Ph: 03 5127 4566