The safer way to pick orders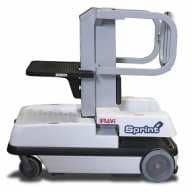 New to the Australian market, the Powerlift Sprint is ideal for any stock picking or stock replenishment application.  
The Sprint is a safe alternative to dangerous ladders or expensive order-pickers for picking light loads at low levels.
It has a platform height of 3.3m, so that stock can be picked or placed at 5.3m, and its material tray has a capacity of 90kg.  
With fast travel and lift speeds and intuitive controls, the Sprint can add productivity gains to any operation. It is particularly beneficial for those operations with inexperienced or temporary staff because it is so simple and safe to operate.    
Control of forward and backward movement is proportional and can be controlled simultaneously with the raising and lowering functions without moving the hand. Its raising system eliminates the usual chains and requires no maintenance like chain inspections and greasing.
Operator safety is optimised through the use of double foot sensors and a left hand sensor, which means the operator needs to be in a stable, correct position to allow activation.  
The loading platform's maximum height corresponds with material platform height making it easy to slide packages onto the platform, while the heavy duty deep cycle battery enables the Sprint to travel more than 30km on a single battery charge.
The Sprint, from Powerlift Material Handling, is manufactured in Italy. It comes with a 2-year warranty and is offered at a special launch price of $17,200+GST.
Powerlift Material Handling
Ph: 1300 550 607