Safer switchgear for electrical workers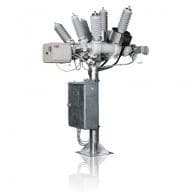 Leading power and automation technology group ABB has enhanced its substation switchgear module design to improve safety in mining and industrial operations.
Enhancements to the PASS (Plug and Switch System) range of high voltage hybrid switchgear modules for substations will ensure better protection for people working with high voltage equipment.
The new module is designed to improve safety for operators and electrical maintenance workers by ensuring that high voltage (HV) equipment in substations can be isolated, earthed and locked out safely and securely.
ABB's PASS Hybrid modules are now available with an innovative mechanical key interlocking system, which ensures it can only be switched in the correct operating sequence. The modules can also be isolated and earthed remotely before personnel enter the substation to perform maintenance tasks.
Once inside the substation, operators are then able to perform a simple, error-free, mechanical operating procedure which is carried out at ground level ensuring that the equipment is isolated, earthed and locked out safely and securely.
PASS is a family of compact, prefabricated high voltage modules for substations, providing the flexibility to incorporate the functions of circuit breaker, disconnector and earthing switch and instrumentation current/voltage transformers.
It is a 72kV-420kV hybrid version of air-insulated switchgear (AIS) and gas insulated switchgear (GIS), which is manufactured in ABB's factory in Lodi, Italy. The compact module can save up to 60 percent space when compared to conventional substations and possesses a major benefit in extension and/or refurbishment projects. 
ABB Australia Pty Ltd
Ph: 1300 782 527