SAFE STORAGE OPTION: 90 MIN FIRE-RATED CABINETS
09-04-2016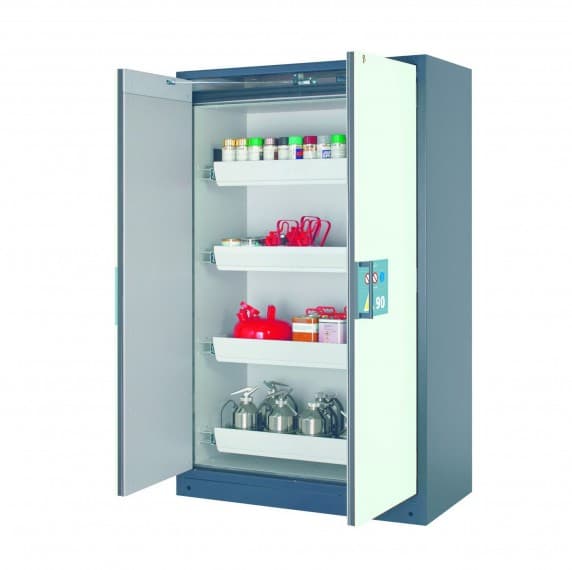 A recent trend in petro-chemical projects to use certified fire-rated safety cabinets, is opening the doors to more efficient overall handling of hazardous goods, without compromising safety.
Put simply, the logic behind this approach is that of central DG stores vs fire rated cabinets, as explained below:
Central storage + non fire-rated cabinets
Large industrial users of flammable liquids, historically utilise central stores, typically 4hr fire rated, bunded, and ventilated to relevant codes (ie AS1940).
These stores are designed to receive bulk amounts of flammable or toxic liquids, from where the bare minimum quantities are distributed around the site for daily use, where they are mostly stored in cabinets, which offer little or no fire resistance (AS1940 requires no fire testing of flammable cabinets).
As such cabinets are not actually fire proof, the maximum quantity per cabinet is usually capped at 250L, plus there is a minimum 10m distance to the next cabinet of 250L.
There is another way.
Decentralised storage in 90 minute fire rated cabinets
The European approach (EN 14470) now adopted by more than 30 countries, states that no flammable cabinet can be supplied without an independently tested fire rating (minimum 30 min, mostly supplied as 90min rated). 
During testing in a furnace, the internal temperature cannot exceed the auto-ignition point of common solvents (over 200ºC).
These are "type 90 cabinets" and can be installed almost anywhere, with no cap on aggregate quantities per lab, due to each cabinet being a fire proof module.
Even 30L and 100L cabinets are available with a 90min fire rating. Gas cylinder stores are also available with a 90 min rating, allowing the same decentralised storage logic for gas cylinders.
The latter approach allows DG consultants a greater degree of flexibility in planning new projects or upgrading existing facilities, while meeting the requirements of local codes.
Use of type 90 cabinets allows larger quantities of flammables to be stored right at the "coalface" in process and manufacturing industries, without compromising safety.
This approach can save a lot of trips to the central store, which also reduces spill and fire risk.
In addition, the fire rated cabinets can be moved around the building at any time in the future – concrete storage rooms cannot.
The overall cost of decentralised storage is usually cheaper than building central stores, and offers a degree of flexibility, which is welcome in most applications.
G3lab
Ph: 1300 435 221