A-SAFE MAKES SAFETY FIRST DEBUT IN MELBOURNE
03-05-2017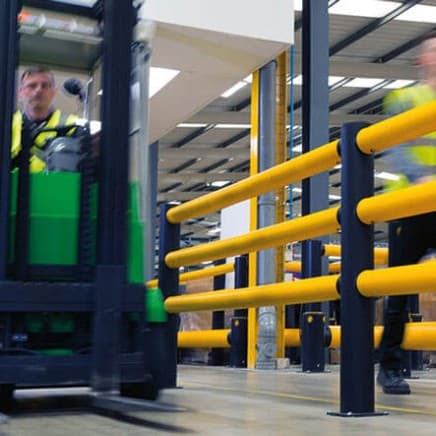 The new Australasian subsidiary of safety barrier specialist A-Safe will be a centre of attention at the forthcoming Safety First exhibition during National Manufacturing Week.
The company will be exhibiting a wide selection of components from its award-winning range of rugged polymer safety barriers, and demonstrating their advantages over traditional metal alternatives.
A-Safe safety barriers are made with a unique three-layer construction using Memaplex, a robust and flexible polyolefin blend of eight materials and rubber additives. This gives them unique energy-absorbing characteristics, allowing them to flex without breaking, absorbing any impact, and returning to their original shape afterwards. The force of the impact is dissipated along the full length of the barrier.
This makes the A-Safe barrier system ideal for use in warehouses for protecting both people and racking from impact damage from forklifts. But it is equally applicable for areas such as car parks, baggage handling halls and anywhere that vulnerable humans need to be kept safe from moving hazards.
One of the key advantages of the A-Safe barrier technology is its low maintenance cost. The colour is bonded in to the polymer, so there is no paint to repair. Breakages are rare. And because of the energy-absorbing characteristics of the barrier system, the bolts securing the barrier to the floor are put under much less stress than those in a rigid barrier system, and so are far less prone to damage.
Visitors to Stand 1220 at Safety First will be able to see a range of different barrier types and components, all featuring the same modular design with interlocking components that fix together without screws or bolts.
Also on show will be a selection of specialist components with moving parts, such as spinning collars that help to deflect impacts, further reducing friction and wear.
A-Safe Australasia
02 9625 8927
www.asafe.com