A safe, hygienic way to lift goods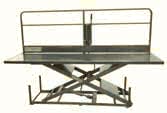 Defence Preferred Supplier Actisafe has launched a stainless steel ergonomic goods lift with safety rails for industry and the primary foods sector.
Made of food grade stainless steel, it provides ergonomic lifting solutions across many industry sectors including meat and meat processing, poultry and pork industries.
It is ideal for businesses where carcasses and other heavy masses need to be moved.
And it is also suitable for general use in warehouses, industrial premises, third party logistics operations and general retail.
The stainless steel single scissor goods lift table can be used either indoors or outdoors and can either be installed in a pit or operated on the factory floor.
Models range in terms of stroke (0.8m to 1.8m) and platform length (950mm to 3000mm).
This means it can perform most lifting duties. The product can also be customised to suit a user's exact requirements.
Like all lift tables produced by Actisafe, the components are from reputable hydraulic and electrical suppliers and all lift tables must attain high standards of quality, reliability and ergonomy before release. Each lift table is also tested before delivery.
The stainless steel goods lift table is ideal when seeking to maintain the load at an optimum working height as well as lifting heavy material to a required level.
It can also be used as a work bench for primary foods, to handle fragile goods, for unpacking and unpacking of goods and to stack pallets automatically or manually.
Actisafe
Ph: 1300 852 397
For more information please visit our website below.