Materials Handling & Equipment
SAFE HANDLING FOR LOW-LEVEL RACKING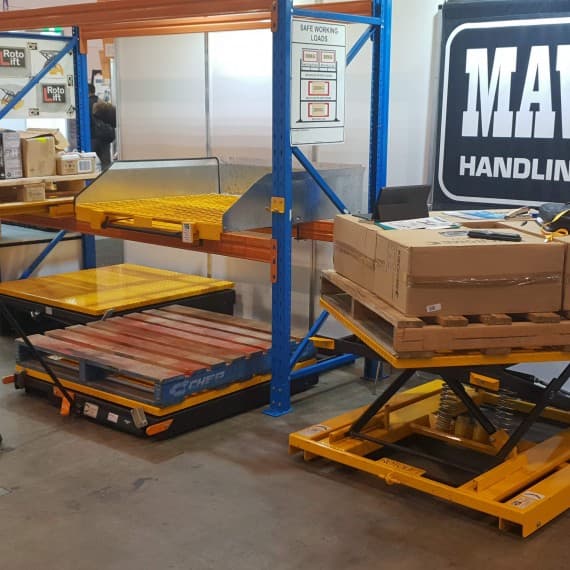 Launched by Maverick at the Workplace Health & Safety Show, the RotoLift Easi Picker, is an elegant answer to the problems of picking or retrieving palletised products at ground level and in low-level racking.
Long identified as a workplace hazard that can lead to serious manual handling injuries, there is always a temptation for order pickers to physically enter low-level racking to access products at the rear of a pallet. This can lead to physical injury due to contact with the racking as well as strain injuries from improper lifting.
The Easi Picker allows pallets to be slid out from racking, providing easy access to the whole pallet.
Rugged smooth-running linear guides ensure that the pallet slides out with minimal force, and the provision of multiple safety locks makes sure that pallets do not slide out unintentionally, and that multiple pallets cannot be slid out at the same time to destabilise the racking system.
Versions are available with inbuilt turntables to allow pallets to be rotated 360 degrees with minimal effort, and spring elevated units are also available to raise the pallet to a comfortable height for picking heavier objects.
Easi Picker is easy to install, with minimal business interruption, making it ideal for any warehouse, spare parts store or retail facility where palletised products are picked and packed.
Easi Picker units are available from Maverick with 1000 or 2000kg capacities for use with standard, Chep or Euro-size pallets. Standard units are available powder coated or galvanised, and stainless-steel versions are available to special order.
MAVERick Equipment
1800 500 411
www.maverickequipment.com.au