Safe, flexible storage from Kobot
31-08-2010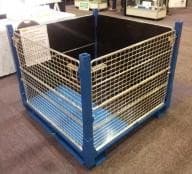 There are many pallet type storage methodologies now available to industry. 
Perhaps one of the most innovative is the collapsible stillage.
This is a pallet size heavy duty stillage that collapses after goods are emptied out and can be stacked up to nine high to be returned to depot or factory, thus saving space and costs.
This is widely used in the automotive industries, where component suppliers supplies parts to the main auto-maker. 
The stillages can be stacked on top of each other, up to five high without pallet racking, when fully loaded.
Again, there are many stillages available in the market, but the stillage from Kobot Systems is designed for Australian conditions, having a 1165mm x 1165mm base, which allows you to load Australian trucks and containers with two stillages abreast easily. 
The Kobot stillage is designed to cater for customers' requests that all four sides can be folded in half for easy access and loading, and two sides removable to allow walk in access for loading and unloading.
The mesh used in the Kobot design is a heavier mesh than the market standard, ensuring its robustness to withstand the tough environment it is used in. 
There is also an optional polypropylene (car bumper material, 2.5mm thick) lining attached to the mesh to prevent damage to sensitive components.
Other benefits include visibility – goods are visible through the mesh, there is no strapping or shrink-wrapping of goods to prevent goods from falling off pallet racking and preventing forklifts losing loads.
These flexible, foldable and collapsible stillages are also available in other sizes.
Kobot Systems
Ph: 08 9307 8178