SAFE AND STABLE WORKING PLATFORM ROLLS INTO PLACE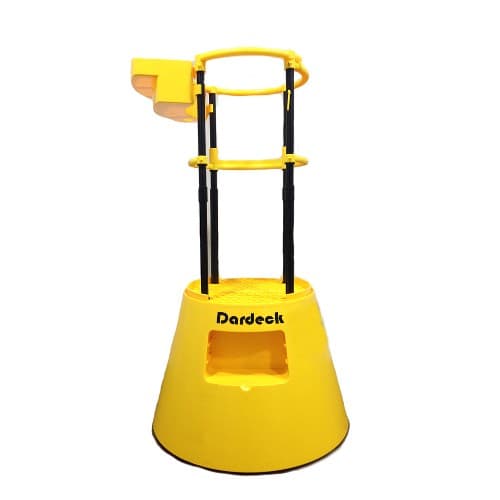 The DarDeck is a novel approach to providing a safe and stable mobile working platform for all manner of applications in materials handling, maintenance and logistics.
With its standard platform height of 500 or 750mm, the DarDeck covers the sorts of applications that until now have typically involved the use of portable stepladders or simple step platforms – both of which offer little or no security for the personnel using them.
As a result, today's WH&S practices dictate the use of complex and expensive solutions such as mobile scaffolding, order pickers and the like. Not only are these unaffordable for many users, they have limited mobility and are impractical for the majority of low-height applications.
The DarDeck combines a solid working platform with safety rails to prevent the user from overbalancing and falling.
The unit is highly mobile: it rolls on spring-loaded castors, and its maximum width of 760mm at the base means that it can easily be pushed through any standard doorway. However, once in place, as soon as the operator mounts the unit the castors retract and the base becomes grounded and stable.
Where the DarDeck goes beyond all alternative designs is with its restraint ring, which is set 800mm above the platform (at hip height for the average adult). The ring clips into place once the operator has mounted the platform and fully encircles the operator.
And while the restraint ring is flexible, rather than rigid, it ensures that the operator's centre of gravity does not move outside the circumference of the base, thereby removing the risk of tipping over or falling from the platform.
An integrated shelf allows the user to safely hand-off tools or goods so that both hands are free while mounting and dismounting as well as while operating on the platform. There is also the option to mount a customised tool caddy.
Designed and manufactured in Australia, the DarDeck is largely made almost entirely from plastics. As a result it is nonconductive, and so is a safe work platform for electrical servicing tasks where live circuits may be present.
DarDeck Safety Systems
07 5511 1411
www.dardeck.com