SA Government's Holden plan a 'pre-election stunt'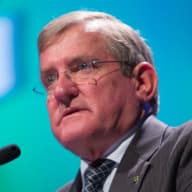 South Australia's proposed recovery plan in the wake of Holden's closure is an election stunt that lacks substance, the Federal Industry Minister Ian Macfarlane has claimed.
The recovery plan announced earlier this month by SA Premier Jay Weatherill calls for a $333 million investment from the Commonwealth and hundreds of millions more in fast-tracked infrastructure funding.
Mr Weatherill has urged the Federal Government to agree to the package, but this seems unlikely.
"I don't see the substance in that, said Mr Macfarlane. "I don't understand what he's (Mr Weatherill) proposing, he hasn't discussed it with me. There's been no depth to what he's been saying.
"Those sort of band-aid disposals offer no solution to South Australia. What you need is a measured, dedicated, well-researched approach to how we're going to deal with the issues."
Mr Macfarlane is currently holding talks with businesses in Victoria on the future of local manufacturing in the wake of Holden's decision to close its local operations from 2017.
While Holden's exit would have a "traumatic" impact on South Australian workers, Mr Weatherill is "blame-shifting," Mr Macfarlane claims.
"We will put in place a plan that will serve South Australia well for a decade, not for two months just to get a Labor government re-elected," he said.
The SA election will be held on March 15.
"There's no point having a review if you jump to a conclusion before you even start."
The SA Government's plan was developed after consultations with business leaders, welfare groups, unions and components suppliers and has been described by charity Anglicare as "a very good first step".
The $333 million figure is more than five times the Commonwealth's $60 million commitment but Mr Weatherill says it is a fraction of the cost that will be saved in car industry subsidies as a result of Holden's exit.
Meanwhile, the Australian Industry Group has supported SA Government initiatives to assist auto component suppliers.
Ai Group SA Director Steve Myatt said the Federal Government should closely consider all of the six initiatives of the State Government response, but in particular the ones dealing with transition and growth strategies.
"Ai Group has many member companies who are suppliers to Holden or suppliers to Holden's suppliers and a comprehensive transition plan is not only required but also needs to be well resourced, Mr Myatt said. "In the six point plan the needs of affected workers have to be given appropriate priority but the initiatives to grow existing manufacturing to maximise the opportunity to employ Holden workers in the future, plus encourage suppliers to diversify their activities, are crucial to the State's economic future."
Mr Myatt described Holden's decision as a "game changer" for the State's manufacturing industry.
"However manufacturing in South Australia is more than Holden and we need to build on capabilities already in place elsewhere and identify opportunities as they emerge," he said.