SA COMPANIES WIN MAJOR DEFENCE INNOVATION FUNDING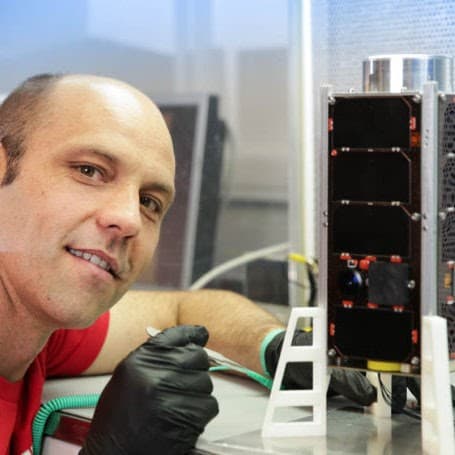 Dr Matthew Tetlow, Inovor: protecting satellites from space junk
South Australian defence industry SMEs have won more than $8 million in funding from the Defence Innovation Hub to provide the Australian Defence Force with a capability edge.
Federal Minister for Defence Industry Melissa Price says that this round of investments includes initial concept exploration and technology demonstration, through to prototyping and integrated capability demonstration and evaluation.
Contracts valued at more than $28 million have been awarded to 15 Australian small businesses developing cutting-edge defence technologies, four of which are based in South Australia.
Inovor Technologies, based in the Lot 14 corporate campus on Adelaide's North Terrace, was awarded a $5.7 million contract to deliver a prototype nanosatellite to enhance space situational awareness, which is aimed at growing Australia's space capability and could contribute to the global space surveillance network.
Inovor designs and integrates small satellites, including its InoSat nanosatellite, a turnkey surveillance pod to protect satellites from space junk. The InoSat is a cheaper alternative to directing space traffic and can also be used to study climate change, natural disasters and general agriculture on Earth.
In April this year it won a $272,000 Defence Innovation Hub grant to prove the company's algorithm can stabilise control systems to keep satellites fixed on specific positions.
"The stabilising technology enables very fine pointing with as little jitter as possible, focusing on stars for long periods of time," Inovor CEO Dr Matthew Tetlow said at the time.
Electronics engineering company Solinnov, based in the Mawson Lakes Technology Park in Adelaide's northern suburbs, was awarded $2.3 million to develop a software-defined radio system with applications across electronic warfare, communications and sensing domains. The ADF is interested in the technology because of its potential to replace multiple pieces of equipment with one lightweight, portable solution.
IT company Consunet, based in the inner Adelaide suburb of Thebarton, has been awarded $180,000 to develop a software capability to enable electromagnetic battle management that integrates existing technologies.
QinetiQ, an international company with offices in Adelaide, was awarded $280,000 to develop an alternative electrical power micro-grid solution for deployed forces.