SA'S FIRST ADVANCED WELDER TRAINING CENTRE OPENS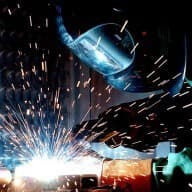 South Australia's first Advanced Welder Training Centre is now open for business at TAFE SA's Regency Campus. The centre is equipped with a state-of-the-art augmented reality lab featuring the most advanced welding simulators available anywhere in the world.
At the official opening ceremony, State Minister for Industry and Skills David Pisoni said the centre will provide valuable training to ensure skilled local welders are ready to meet the huge demand that will be created when the naval shipbuilding programme at the Osborne shipyard commences next year. It is anticipated that the programme will require around 2600 tradespeople, almost half of them welders, from 2020 to 2027.
"There are enormous naval shipbuilding opportunities on the horizon that are heading to South Australia and the Marshall Liberal Government is ensuring that we provide the right resources to fill these jobs through appropriate skills and training," he said. "Welding techniques required for shipbuilding are of a higher quality standard than regular welding techniques and these simulators will allow students to practice their technique until they consistently meet the quality standard."
State Education Minister John Gardner was excited to see TAFE SA students being skilled in areas that lead to jobs.
"This new Advanced Welder Training Centre offers an incredible training opportunity for TAFE SA students to learn using the most advanced welding simulators currently available," he said. "These simulators are another example of TAFE SA utilising the latest technology in an educational environment to prepare students with the skills and knowledge for long and successful careers."
The centre is a partnership between TAFE SA and Weld Australia, representing industry. Weld Australia CEO Geoff Crittenden said: "This technology is three times cheaper, faster and more effective when compared to traditional training methods. By using this technology, TAFE SA will not only be able to upskill existing welders, but also train transitional workers and apprentices to be part of the defence program.
"Without a doubt, the successful implementation of this innovative training initiative will revolutionise welder training in Australia. It will raise the standard of welder education in Australia exponentially, putting our welder training on par with the best in Europe and America."
The training will quickly qualify welders to ISO 9606-1 Qualification testing of welders - Fusion welding, the only industry standard in the world that is accepted in both Europe and America, and the minimum requirement for working on rolling stock, defence and infrastructure projects.
The virtual and augmented reality welding technology increases the rate of engagement in learning and allows students and lecturers to analyse and review welding techniques and performance in a digital environment. The result is that students then perform more effectively in the live workshop environment, where it counts.
TAFE SA Director Defence Industries Penny Johnston said that there were many advantages for students to use the cutting-edge technology as part of their training.
"The detailed feedback a student receives on their performance on the simulator is instantaneous and increases the rate at which they acquire an understanding of how they can improve," she said. Students analyse the data fed back on their angles, travel speeds and arc lengths to adjust their welding performance and increase improvement. Students are able to build muscle memory with welding techniques much more quickly and the techniques learned can then be taken to the workshop to be performed in a live environment."
Weld Australia convened an Industry Skills Group in mid-2017 to prepare a training curriculum tailored for both experienced welders and transitional workers. The courses were accredited by the Victorian Registration and Qualifications Authority in late 2017. As a result, TAFEs around the country can now teach the accredited course, with funding provided by their State Government.
Weld Australia
02 8748 0100
wtia.com.au/