Published 27-08-2020
| Article appears in August 2020 Issue
RUN HOT AND COLD WITH THERMAL MANAGEMENT SOLUTIONS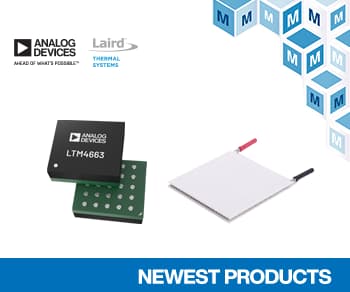 Mouser Electronics Inc. is now stocking UltraTEC UTX thermoelectric coolers (TECs) from Laird Thermal Systems and the LTM4663 ultra-thin μModule TEC regulator from Analog Devices Inc.
Together, these advanced TEC devices form the core of a temperature feedback control loop design and provide a reliable solution for use in industrial laser applications, optical modules and optical networking systems as well as medical diagnostics, laser projectors and LiDAR systems.
ADI's LTM4663 integrates a TEC controller, switching regulator, inductor, linear power stage and supports components in a compact 3.5mm x 4mm x 1.3mm LGA25 package.
The device's ultra-thin form factor allows it to be attached to the back side of a PCB in optical modules, even in tight spaces.
The LTM4663 TEC regulator operates over an input voltage range of 2.7V to 5.5V and features two self-correcting, auto-zeroing amplifiers to serve as a temperature feedback control loop and thermistor input amplifier.
The regulator supports versatile use cases, allowing developers to independently program maximum cooling and heating currents as well as the maximum TEC voltage.
The Laird Thermal Systems UltraTEC UTX TECs are assembled using next-gen thermoelectric material that deliver key improvements in efficiency and temperature differential and boost cooling capacity by up to 10 per cent. The TECs offer high cooling capacity, making them an ideal choice for both laser cooling and laser projection.
When paired up, the LTM4663 and the UTX TECs provide an efficient thermal management solution for laser and optical applications.
The LTM4663 regulator allows designers to manage the temperature feedback control loop while the UTX TECs deliver the cooling function and heat pump necessary for reliable temperature control – and they're both available now from Mouser Electronics, the New Product Introduction leader empowering innovation.
Mouser Electronics
www.mouser.com