Rugged diaphragm pump for sludges and slurries
31-08-2010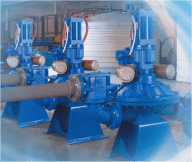 Ideal choice … Ramparts air driven single diaphragm pumps 
Ramparts air driven single diaphragm pumps are ideal for sludge and slurry duties, according to authorised Australian distributor, Hydro Innovations. 
Using compressed air and using a spring assisted air cylinder, pumps are available in discharge sizes from 38mm through to 150mm.
Extra thick casings (up to 30mm thick cast iron) along with long lasting diaphragms, combined with run-dry capabilities, make the pump an ideal choice pumping of all manner of sludges and slurries, says Garry Grant from Hydro Innovations.  
Suction and discharge pressures can be independently set so that energy is not lost on either stroke and diaphragm life is maximised.
Ramparts diaphragm pumps are capable of flows from 1 (one) litre per second through to 20L per sec and are capable of operating on suction lifts to 6m. 
They are also able to pump corrosive slurries because they can be completely lined with a variety of compatible elastomeric liners.
Servicing of Ramparts diaphragm pumps is easy. Balls and seats of check valves can be replaced in minutes, and a diaphragm can be replaced in an hour. 
And although these pumps are able to pass large size solids, if anything gets caught in the valves, obstructions can be removes in minutes through the quick-lock cover plates.
Mr Grant says the pumps are most suited to those applications that other pumps struggle with. 
Applications that are "maintenance headaches" are generally handled with ease by Ramparts diaphragm pumps, he says. 
Fluids like glass slurries, acid slurries, heavy sludge, and shear sensitive liquids are ideal applications for the pumps.
Hydro Innovations
Ph: 02 9647 2700