RUGGED CONNECTOR IS COMPACT AND SECURE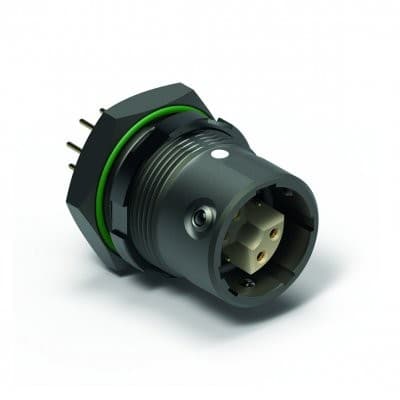 Fischer Connectors has made several additions to the Fischer MiniMax Series, continuing to push the boundaries of technological innovation in rugged miniaturisation, high-speed data transmission, and sealing.
New connectors are capable of high-speed AWG24 ethernet data transfer, feature enhanced IP68 sealing down to 20m/24h, and sport an anthracite coating with <5mΩ panel grounding.
The result of these innovations is exceptional performance in a very small connector, addressing the growing need for higher data transmission in such markets as medical, unmanned vehicles, industrial, instrumentation, and defense – to name only a few.
With these new capabilities, the MiniMax connector now enables design engineers to integrate rugged connectivity solutions with full-speed Ethernet into their latest installations, no matter the environment. 
Improvements in the design and production chain have also enabled Fischer Connectors to increase the depth that all Fischer MiniMax connectors can safely achieve, and ensured sealing meets the stringent IP68 sealing standard, providing increased reliability for extreme environments. 
The series receptacles now also come in a hexagonal body style, making integration into small housings easier and more robust. As customers do not need to rely on the flat of the panel cut, they can instead include a hexagonal recess on the backside of the panel in which the receptacle will fit.
Electus Distribution
1300 738 555
www.fischerconnectors.com