RUGGED AND RELIABLE DRIVES GIVE BORING PROJECTS A LIFT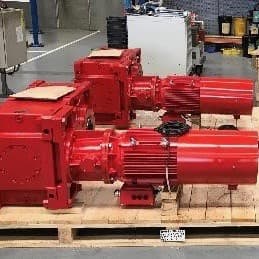 Cranes and lifting equipment company Eilbeck Heavy Machining Centre is benefitting from the reliability, safety and durability of Bonfiglioli Australia's drives as it works on several major tunnelling projects in Australia, such as Melbourne's Metro Tunnel and Westgate Tunnel, and Sydney's NorthConnex, WestConnex and Metro Stage 2.
Bonfiglioli's rugged, high-quality drives are engineered and assembled at its headquarters in the western Sydney suburb of Glendenning, then delivered to the project sites, where they power Eilbeck's cranes and lifting equipment.
"Eilbeck's market-leading status in Australia is due to our consistently high quality and robust products, ongoing reliability and outstanding backup service," says Charlie Eilbeck, Head of Eilbeck Heavy Machining Centre. "Having a supplier like Bonfiglioli that shares these qualities is an asset in ensuring safe, efficient and reliable operations."
He says the company has a strong focus on short delivery times, reliable service and never turning down a problem for being too complex, so it's rewarding to work with a company like Bonfiglioli, which has similar values and a focus on innovation and problem solving.
The drives, including HDP and F series parallel helical gear units, power the cranes that lower tunnel-boring machines, handle pre-cast slabs and are operating 24 hrs a day.
"In our business, our cranes are hauling 24/7, so safety and reliability are imperative," Eilbeck says. "Clients rely on us for smooth running operations. In addition to hauling products, many of our cranes are equipped with man-riding capacity, so we cannot have any doubt with the safety of the products we use. We have relied on Bonfiglioli for many years now due to its outstanding safety and total standards compliance, high product quality, and reliability of service, backup and support.
"We have competitive time lines on major tunnel projects, and we're penalised for any downtime. The reliability of Bonfiglioli's drives means we have one less thing to worry about and we can get on with the efficient running of operations.
"For us, Bonfiglioli is a trusted partner. They not only supply world-class products with readily available support, but they do so competitively. This allows us to remain competitive in the market without compromising on quality and safety, which is key to us expanding our operations and continuing to deliver projects to the high standards Eilbeck is known for."
Bonfiglioli's HDP parallel shaft helical gear drives are an outstanding range of large industrial gearboxes assembled in Australia to provide exceptional reliability and torque densities to record values, says Bonfiglioli Australia Managing Director Malcolm Lewis.
They feature excellent torque distribution across their entire ratio range, with gear ratios laid out in close progression and the drives having a rugged capacity to cope with the shock and impact of intermittent loads.
The full range of Bonfiglioli large parallel shaft gearboxes has been extended for the Australian market, with output torque ranging from 5190Nm to 210,000Nm. Bonfiglioli's HDP range features a housing made from spheroidal cast iron, monobloc from HDP60 to HDP125 and horizontally split case from HDP130 to HDP160.
Eilbeck uses Bonfiglioli's HDP100, 110, 120 and 150 three and four stage parallel helical gear units to power the hoists on its cranes. These drives are in the middle of the HDP range and are ideally suited to a crane's main or auxiliary hoists, with torque ratings between 25,880 and 117,000Nm.
Bonfiglioli's F series parallel helical gear drives are reliable and easily installed modular shaft-mounted gearboxes in torque capacities from 140 to 14,000 Nm. They feature high-efficiency gears, sturdiness, quiet operation and a broad range of sizes, ratios and configurations to fit numerous applications, including many materials handling and lifting equipment applications.
Eilbeck uses Bonfiglioli F41, 60, 70 and 80 drives to power long and cross-travel drives on its cranes. These drives span a large portion of Bonfiglioli's full range and have torque capacities between 1100 and 8000Nm.
Bonfiglioli Transmission (Australia)
02 8811 8000
www.bonfiglioli.com.au