Published 15-12-2020
| Article appears in February 2021 Issue
RS Gifts and Gadgets Super Techy Holidays
The new covid normal has given everyone an edge where tech stuff, Zooms and no touch technology for example, are no longer so daunting an addition to regular routines.
And RS Components, the largest electronic, electrical and industrial products online provider, is making it even easier with an array of products to try your family's techy hand with, over the break.
The internet of things, DIY's and robotics are all covered, with development kits such as Raspberry Pi and Arduino. Hand tools, and HPM and 3M products will also bring the manufacturing and electronics edge out the most inquisitive of your family member's pursuits!
For your robotics challenge, the  Raspberry Pi 3 Kit for Dummies is a starter kit made by Canakit.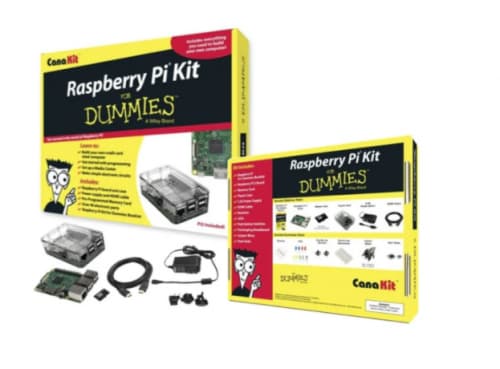 The starter kit is bundled to help you get up and running within minutes of opening the box with the use of the Dummies guide. The Raspberry Pi for Dummies booklet introduces a fun way of digital learning based on the Raspberry Pi board.
Also making the Raspberry Pi 3 intuitive and easy to learn.
You and your family will have fun in learning to build your own credit card sized computer; get started with programming and coding and  set-up the Raspberry Pi as a Media Centre.
For those who love the detail the kit can help you make simple electronic circuits with the included electronic parts.
And if you need accessories, the catalogue also have it all in stock, from amplifiers to, audio outputs and camera modules.
The robotics fiesta includes STEM educational robots teaching children coding and enhance their STEM skills.
These STEM robots can also help kids learn cognitive skills like problem solving and critical thinking whilst still having fun in the process.
RS Components provide a series of robots aimed at the different key stages enabling you as a parent or educator to make the right robot choice for your child.
The robotics gallery also include sensor development tools, PI cameras, compatible boards and kits and Arduino products – boards and kits.
For example Arduino's Tinkerkit Braccio Robot will not only bring out the creativity but also the tinkering and fun urges from your family.
The kit consists of a building kit, bringing out the role of collaborative robots (cobots) in the learning future,  just by building one.
The TinkerKit Braccio is a fully operational robotic arm controlled using an Arduino Board.
Designed for desktop use and is supplied in kit form so you can assemble it to your own requirements.
It can be used in several ways and is easily adapted. Pickup and move objects, mount a camera and track your movements in a video call or attach a solar panel and track the movement of the sun.
The Tinkerkit Braccio is supplied as a kit and requires assembly before use. A Braccio servo shield is included but you need an Arduino Board for operation, for example RS 715-4081.
There is a well laid out catalogue with images to show you what the parts are all about and what they're used for and all the accessories you want to try.
RS Components Ltd - https://au.rs-online.com/web/