RS COMPONENTS EXPANDS ITS PNEUMATICS RANGE
19-02-2016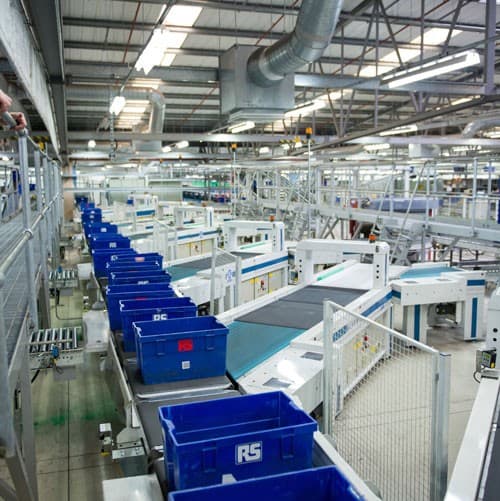 RS Components has announced a significant extension to its range of pneumatic components from SMC.
Targeting machine builders developing new pneumatics-based applications as well as maintenance engineers, the additions to the SMC pneumatic components range comprise more than 600 products including cylinders, actuators, valves, fittings, assemblies, filters, lubricators, regulators, hoses and air-preparation devices.
Pneumatics technologies are deployed in a multitude of industry sectors including automotive, electronics, photovoltaics, print, pulp and paper, food and beverage processing, mineral processing and quarrying, and also in life sciences.
RS is now the only global distributor holding stock for the majority of SMC pneumatic component products.
The increased range now includes the KQG2 one-touch pneumatic fittings manufactured from SUS316 stainless steel, which offers higher pitting and corrosion resistance. They are suitable for use with compressed air, water and steam, and are able to perform across a wide range of pressures from –100kPa up to 1MPa and temperatures from –5 up to +150°C.
Ideal for the food and beverage as well as the chemical industry, the devices include: straight, elbow and bulkhead threaded-to-tube adaptors, and straight, elbow, tee, and bulkhead tube-to-tube adaptors, tubing nuts and plugs for pneumatic adaptors and fittings, and elbow threaded adaptors.
The KQG2 range of lightweight and compact push-in fittings are 30 percent smaller and 62 percent lighter than the existing KQG range and available to tubing diameters from 3.2 to 16mm.
Another highlight of the range is the new AR-B series of pneumatic air regulators. These offer pressure settings of either 0.05 to 0.7MPa or 0.02 to 0.2MPa, and feature a new lightweight modular design that allows connection to other SMC air-preparation equipment. The AR-B series can be mounted using a bracket, or can be panel mounted. All versions come with a locking setting nut to prevent accidental adjustment and are available in various body sizes (20 to 40) and with 1/8 to 1/2in piping.
Finally, the CP96 range of double and single acting ISO-cylinders provides a large number of options including 32 to 100mm bore, 25 to 500mm stroke, and double and single rods. To eliminate piston rod lurching at the end of the stroke, the CP96 double-acting cylinders incorporate a floating seal mechanism and use precision bushings and piston-rod tolerances. Additional features include: fully adjustable end-of-stroke cushioning using a hex key; magnetic position sensing as standard; improved mounting accuracy; and a lightweight-profile barrel design.
The extensive range of pneumatic components and products from SMC is now available from RS in the EMEA and Asia Pacific regions.
RS Components
1300 656 636
www.rs-online.com