Royal Wolf creates shipping container dedicated to maggot production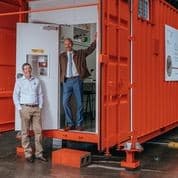 Warner Anderson (left) and Dr Frank Stadler.
National shipping container company Royal Wolf has created a bespoke shipping container solution for a Griffith University project investigating the production and use of maggots for medicinal purposes.
The project, led by Dr Frank Stadler, Research Fellow and Team Leader at MedMagLabs at Griffith University's School of Medicine, on Queensland's Gold Coast, hopes to revolutionise disaster and conflict wound care around the world.
When executed correctly, maggot therapy works to remove dead tissue, control infection and promote healing. But it requires a movable laboratory that brings point of care close to the production of medicinal maggots.
"Frank approached us about building a shipping container lab. He had a fixed budget in mind, but he also had a certain list of needs that he wanted in the container. Our challenge was to try and fit them all in and come in on budget," says Warner Anderson, Royal Wolf's Business Development Executive, Modifications.
"We selected Royal Wolf because the expertise is there," says Dr Stadler. "When we shared our concept and our brief with them, we were even more convinced that we had chosen the right partner."
Given the scientific nature of the work carried out within the MedMagLabs project, it was important that the solution was highly functional, durable and robust.
"Having a shipping container, which is very mobile, converted into a laboratory makes sense. It's a solution where we can produce a large quantity of medicinal maggots close to the point of [patient] care," says Dr Stadler.
Pending the outcome of the MedMagLabs project, the containerised solution has the potential to be replicated and distributed around the world, with the ability to change lives.