ROYAL LAUNCH FOR CADETSHIP PROGRAMME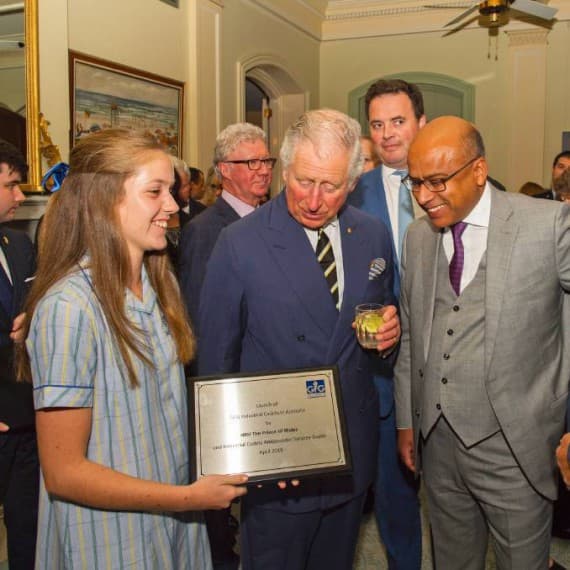 Pictured: Whyalla student Grace Smallacombe, HRH Prince Charles, and GFG Alliance Executive Chairman, Sanjeev Gupta.
Whyalla's manufacturing industry is looking towards a brighter future, as the Australian GFG Cadets programme launch is overseen by Prince Charles. 
GFG Alliance will be commencing the programme in Whyalla partnering with local high schools, providing students with high‐quality, accredited work experience, and mentorship from industry role models. 
GFG chairman Sanjeev Gupta said the aim of the programme was to train and inspire the future workforce of Australian manufacturing, giving young people direct experience of industry before they complete their education. 
"Australian industry faces similar challenges to the UK with a generational gap in industrial skills. I am very confident the GFG Cadets programme will be as successful here as the cadets have been in the UK," Gupta said.
"Coming from a family of industrialists, while growing up I had the opportunity to spend time in steel works and engineering plants. That left a lasting impression on me and inspired me to pursue a career in industry."
"I see GFG Cadets fulfilling the same function and am very excited about its promise in Australia." 
GFG flew a team from Whyalla to meet with Prince Charles for the launch, including Samaritan College Principal Damien Judd, and an aspiring student: 13‐year‐old Grace Smallacombe.
"What Mr Gupta has done in securing the future of Whyalla is incredible, and we're excited about the investments and improvements GFG has in the pipeline," Judd said.
"The fact that he is also looking at inspiring and training the next generation of Whyalla residents through the GFG Cadets programme shows his real commitment to the future of our city." 
Student representative Grace Smallacombe said she was looking forward to being mentored by industry leaders.
"The cadet programme will allow students to see how GFG's Whyalla operations run and maybe get a job there in the future," she said.