The Royal Apollo Group: strong female leadership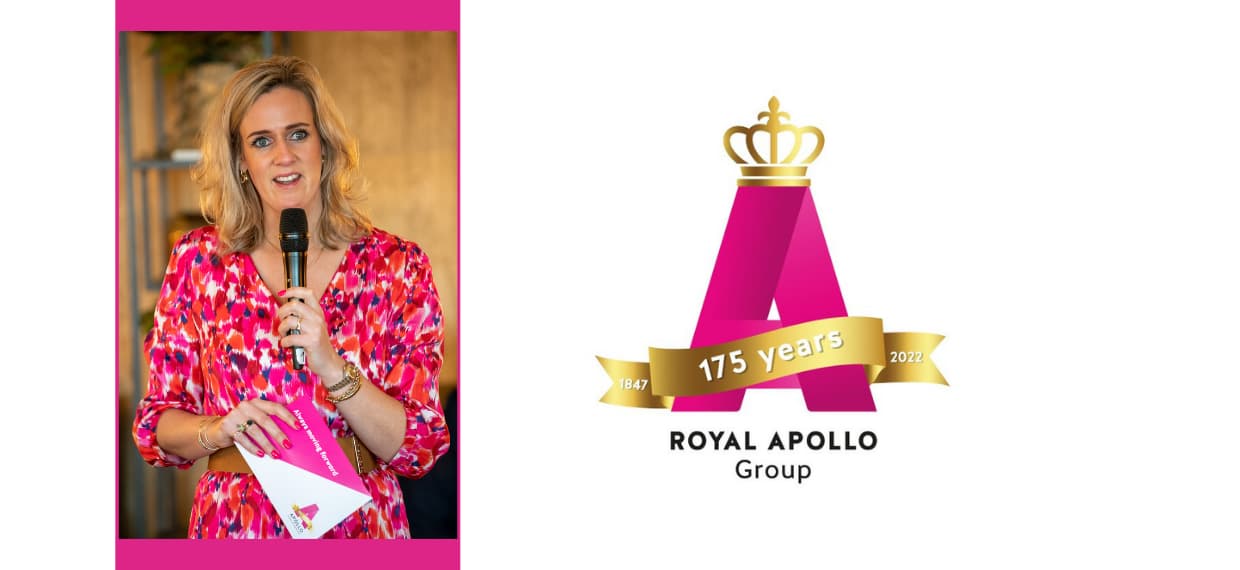 For the best of two centuries, the Apollo Group has ensured that brands like Coca-Cola and Tesla roll through their factories by using Apollo machines. This month Apollo reached the milestone of 175 years in business. It is one of the oldest Dutch family businesses, in the hands of the van den Pol family for six generations.
Industry Update exclusively interviewed Apollo CEO/Owner Claudia van den Pol, who took over the operation in 2016 after managing several different functions within the company. 
CP:  Gijsbert van den Pol started Apollo in 1847 as a small blacksmith shop in the middle of Holland. I think it was never his intention to grow this organisation to where we are today. There were no signs at that time he had the idea that we would become a family business. The first three generations remained blacksmiths. However, in the fourth generation, there was a change toward agricultural machinery as industrial development was taking place around the world.
IU: Who was the most significant owner, who made the strongest contribution towards growing the business into what it is today?
CP: That's very hard to answer because I would have to choose between my grandfather, my father or myself. All have made a contribution to the company. My grandfather who was the third generation, had a nickname 'the builder'.There were four brothers in that generation and they explored the world making the switch to agricultural machinery. They were also involved in building the dikes in Holland, when there was tremendous change. Every owner has always done what is best for the company at the time. 
IU:  How did the evolution of the firm come to include, for example, vertical conveyors, logistics and baling?
CP: Vertical conveyors, consisting of our spinal conveyors and bucket elevators are the main products that we sell all over the world and manufacture in Holland, Bangkok and the US. My grandfather worked with rolling conveyors and turning tables in a project kind of business that my father continued. These businesses require different approaches in the market but also different customers. That's why my father decided to bring them into different divisions. The baling and debaling were added to the group 15 years ago.
IU: What specific industries does Apollo service?
CP: Our main focus in Australia are bucket elevators and spiral conveyors. These can be used in any factory with an internal transportation system, whether it produces food, beverages, personal care, automotive or even operates within the glass industry. If you eat M&Ms, drink a coke, a beer or wine, or use make-up all of that can be transported by our machines within a factory. Everything that goes to Australia, we produce in Thailand.
IU: Food manufacturing in Australia is increasing quite substantially. Are you experiencing a similar increase in the Netherlands?
CP: Warehousing and ecommerce are the biggest industries booming for us globally, which makes sense with the pandemic and everyone shopping online. Even groceries are bought online, a trend that started years ago in China.  
IU: Can you tell me about your history with the company?
CP: I had an ambition, from a very young age, to take over the business from my father. To prepare myself, I did technical studies and more, and I was aware that being born in my family was a huge privilege. There was a very strict selection for me to take over the business. I had to prove myself, not only to my father but also to the advisors.  
I have two sides: I have this side where I want to look after everyone. And a huge ambitious side that wants to grow the business by building up factories and taking over companies. My ambition is to grow the company to its fullest potential. We conquer the world step by step.
IU: How has the company changed under your leadership?
CP: There has been a tremendous change within our company culture. We talk about being in a joyful workplace and how we can create a culture that is open and transparent without ego. We want a workplace where we are there for our people whether they're going through divorce, or having challenging times. We have personal coaches in the company and a massage therapist.  
IU: Have you come across much sexism in the manufacturing industry and is it different in every country?
CP: We are in this very male dominated industry where the bigger you shout, the tougher you act, the more respect you get. That's not who I am and not what I want to be as a leader, I think that's very old fashioned.  Sexism is different in every country. And of course, I have a lot of experience. It's also a personal journey. In the beginning I had the feeling I had to be one of the guys, to be tough and arrogant. And then I asked "who am I kidding". I'm a warm personality and I want to take care of my people.
There have been people who think they can push me in a corner. Because I'm a young blonde woman, they think 'she has no idea'. I laugh at it, I don't take it seriously and I stand my ground. Some cultures have a different idea about women. I might not agree about that as a woman but I'm not there to change all of that. I ask myself, "how do I get the business and to stay true to myself", that's the juggle.
IU: COVID has had a silver lining for the majority of manufacturers in Australia. Have you seen that elsewhere? 
CP: In the US, business has been booming. In Europe, there was a moment at the start of 2020 when projects were put on hold as people had to get used to this new world. Now we are doing better than ever in Europe.  In 2020 ASEAN was doing pretty well. During the start of 2021, all of those smaller countries there were hit harder because they are developing nations and were in complete lockdown. Australia has been a great market for us and South Korea has also been really strong. 
We have many countries doing really well, so overall we are still growing as a company. However, it is less assured and we need to be more flexible as an organisation to run and stop at the same time.
IU: What is your vision of the company's future?
Giving back is very important to me although it's not something I want to brag about, I see it as a normal action you should take. I also want to launch something for the 175th anniversary that goes into sustainability and is good for the environment. I'd like to keep the company in my own hands, I own 100 percent of the shares and intend to keep it in the family. We need to grow, to acquire and we're always working on new product development. Our motto is "always moving forward."