ROTARY TANK CLEANER CLEANS FASTER AND MORE FRUGALLY
21-03-2017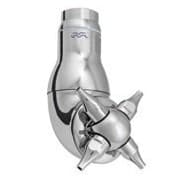 Claiming to save both time and water in tank cleaning operations, the Alfa Laval TJ40G rotary tank cleaning machine uses a high-impact jet stream to remove tough tank residues and minimise the risk of product contamination.
The machine features a four-nozzle rotary jet head, which is reckoned to clean tanks 60% faster than static spray ball technology. The shorter cleaning time not only reduces production downtime, it also means that the TJ40G lowers operating costs by reducing the total water and cleaning agents required.
Suitable for tanks from 50 to 1000m³, the new cleaner can handle tough residues and particles up to 1mm in the cleaning fluid. This is handy in applications such as brewing, where particulate matter is frequently recirculated in cleaning media.
The TJ40G also cleans itself, both inside and out, to further reduce the risk of product contamination. Externally, there are small directional jets in the hub that clean the machine.
All Alfa Laval rotary tank-cleaning devices comply with good manufacturing practice (GMP).
Alfa Laval
1800 023 182
www.alfalaval.com