ROTARY BATCH MIXER DISTRIBUTES LIQUIDS THROUGH SOLIDS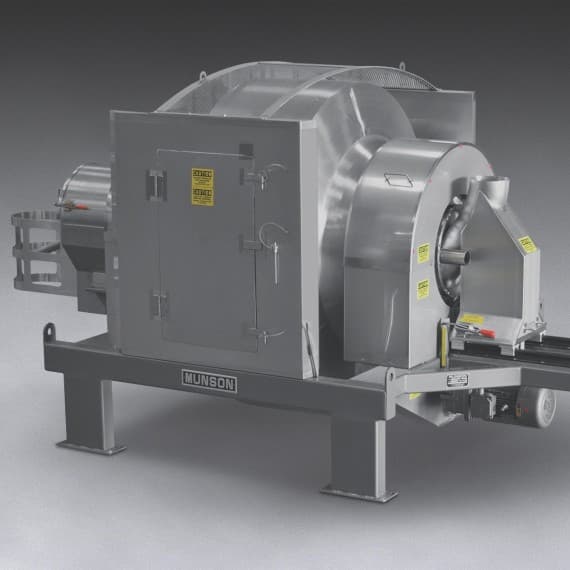 The new 700-TH-40-SS sanitary rotary batch mixer with internal spray line from Munson Machinery distributes liquid additions through dry solids with total uniformity and minimal shear or heat in one to three minutes. The spray line can introduce coatings, flavourings, vitamins or active ingredients in liquid form into any bulk solid food, nutraceutical, mineral or chemical product.
Proprietary mixing flights within the rotating drum fold, tumble, cut and turn the material, which recombines 288 times per minute and creates a wide bed of moving material onto which liquids can be sprayed in trace amounts or large quantities for rapid incorporation.
The flights also direct the material toward and through a stationary, pneumatically-actuated plug gate valve for total discharge, eliminating residue that would otherwise be wasted or require manual removal prior to cleaning.
Twin doors on opposite sides of the mixing vessel and a sliding intake chute provide unobstructed access to the interior, intake spout and seal area for cleaning, sanitising and visual inspection of all material contact surfaces. An internal supply line allows in-place rinsing and cleaning.
The mixer is constructed of stainless steel finished to sanitary standards, has a useable batch capacity of 1130L and a total capacity of 2320L, and is equally effective in blending of batches from 100 per cent of rated capacity to as low as 15 per cent without liquid additions and 33 per cent with liquid additions.
The rotating drum is supported by two oversized trunnion rings that ride on heavy-duty alloy roller assemblies, providing long life with minimal maintenance. The design eliminates the need for an internal shaft with seals contacting material. To contain dust, the machine has one seal at the inlet, which is mounted externally to allow rapid, inexpensive replacement.
Munson Machinery
03 9768 3955
www.munsonmachinery.com