Rotacaster shows how to prevent workplace injuries
31-08-2010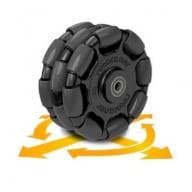 At the recent Queensland Safety Show Rotacaster presented a well-received seminar focusing on the issue of Risk Driven Opportunities in Manual Materials Handling. 
The numbers are staggering. Around two thirds of people involved in manual materials handling experience an injury. 
Most suffer back pain or are affected by musculoskeletal issues. The cost of these injuries is equally significant, with WorkSafe Victoria reporting an average workers comp claim of $55,000. 
These issues are further compounded by the fact that the workforce is aging, becoming less fit and growing more obese. 
Further challenges arise when looking at the need for manual materials handling and the corresponding skill levels, which appear to be inversely related.
Rotacaster has been working with a growing range of corporate clients to address these issues by developing solutions around a range of tasks with injury risk. 
In each case the needs of three core stakeholders had to be addressed to deliver a successful solution: 
The user: by creating a user-friendly solution that inherently favoured correct use, it assured the cultural transition and a high level of compliance with safe operating procedures. 
Management: By delivering not only a safer, but a more productive solution, the company starts earning back the investment from day one. 
Health & Safety: Fundamentally, the solution needed to deliver safer outcome for everyone. 
By successfully addressing all three stakeholders with an easier, quicker and safer solution, Rotacaster has demonstrated that manual materials handling solutions can be improved, for everyone involved. 
Rotacaster
Ph: 1300 768 222